Slingo Fortunes


We've had so many variations on the Slingo formula to date that you would probably expect that they have run out of ideas. That is not the case, however, as we now have Slingo Fortunes on top bingo slot sites like Umbingo.
Adding the best parts of slot games together with the best parts of bingo games and video slot games was a great invention but now Slingo have added something rather unexpected to the mix. What might that be?
Well, you will have to take a look at Slingo Fortunes to find out.
Quicklinks: Free Spins Wizard | Lost Island | Sugar Train | King Kong Cash | Starburst | Action Bank | Enchanted Prince | 99 Time

Slingo Fortunes Developer - Slingo Originals
What Slingo fans might be aware of is that Slingo is a hybrid of slot games and bingo games. What Slingo fans might not know is that Slingo Originals have been making these slot games for nearly twenty five years. That is a long time to perfect your craft.
In that quarter of a century, they have created such an array of games such as:
Slingo Classic

Wild Rover

Slingo Lucky Streak

Slingo Rainbow Riches

Slingo Reveal

Slingo Riches

Slingo XXXtreme
As you can see, they don't always focus on Slingo Originals. Just mostly. You can visit Umbingo, the home of the best online bingo for confirmation of that.
Slingo Fortunes is another Slingo game. So, how does it differ from the rest?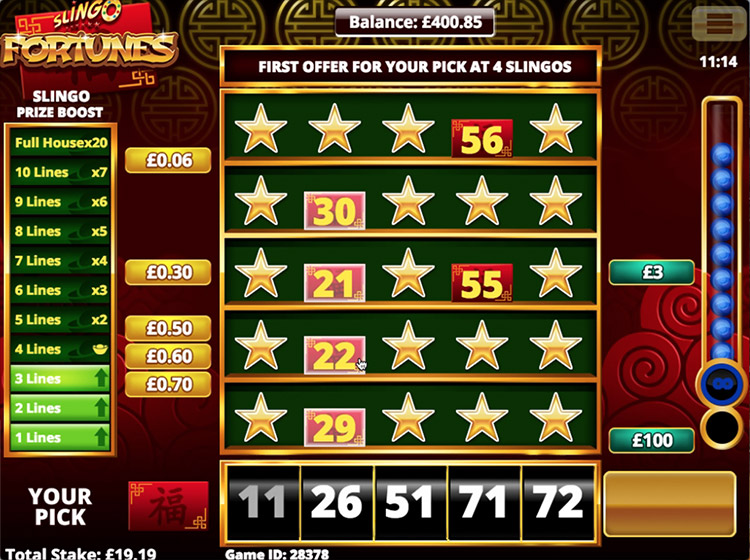 Gameplay and Symbols
Like the regular Slingo games, you are playing over a number of turns. With Slingo Fortunes you can put forward a stake of anywhere between 0.1 and 100 for ten turns. The player will notice a card underneath the reels. These are the numbers that you need to cross off. Just like a normal bingo game on Umbingo.
To cross off numbers, the player needs to spin the 5 reels to match the numbers from 1 to 25 on the grid. They can do this either horizontally, vertically or diagonally. Any numbers matched on the reels will be crossed off of your bingo card.
This a Slingo as it gets. But how does this vary from other Slingo games just like the Slingo Berserk slot.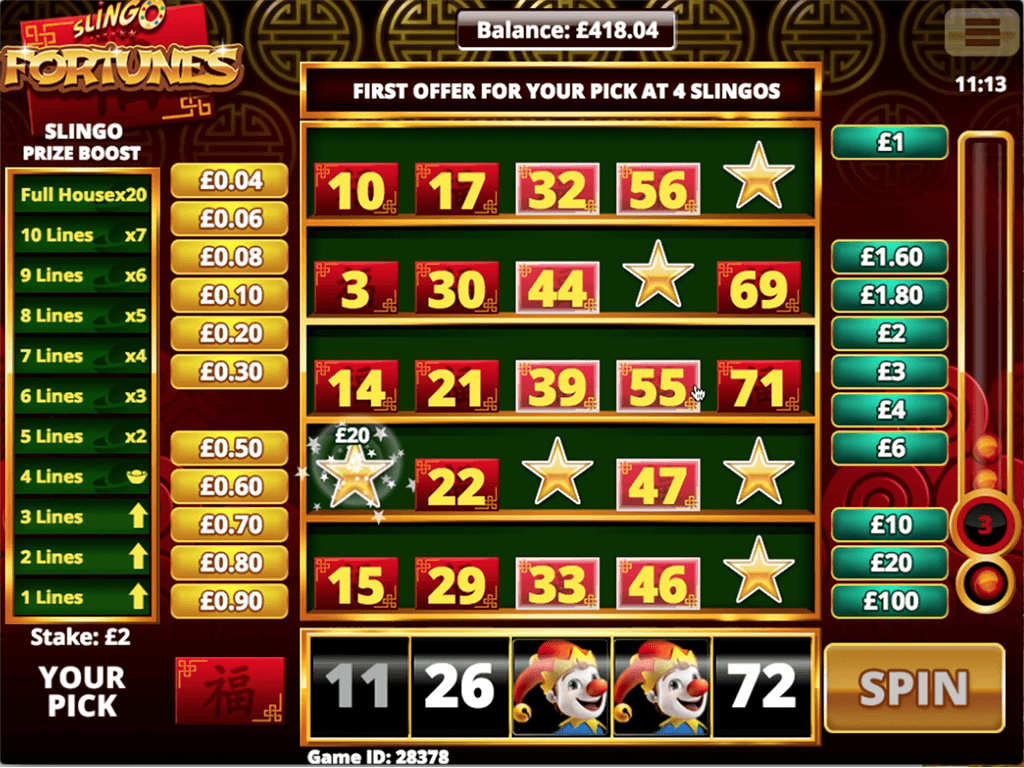 Bonus features in Slingo Fortunes Slot
Where Slingo Fortunes differs from other slot or bingo games is in its envelope feature. When booting up the game, the player will be asked to choose between 26 envelopes. Each one has a randomly allotted prize.
During the game, the player will receive an offer for the contents of the envelope. This occurs each time a player earns 4 Slingo lines. You can either accept the amount offered or continue to play, waiting for the next offer.
If you accept the offer, you will receive that multiplier and no more. However, if you continue the game, and manage to fill your Slingo card with your envelope in hand, the game will reward you with the stake relevant to what the card pays plus a 20x multiplier. Slingo Fortunes is a game that requires some serious thinking.
Essentially, Slingo Fortunes works just like the gameshow Deal or No Deal only the boxes are replaced by envelopes and it is your multiplier at stake. You have 10 turns to fill your card. If it doesn't look like you are going to manage this, there is no shame in taking a lower offer.
This offer system does replace the previous Slingo slot mechanic of buying further spins.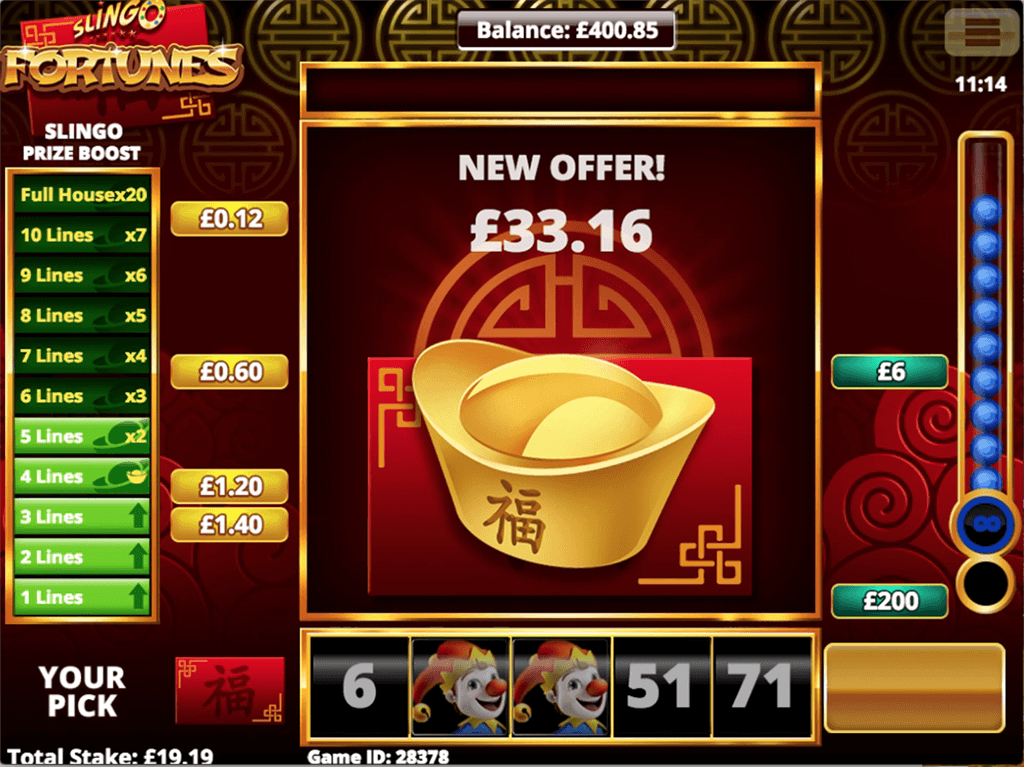 Final thoughts on Slingo Fortunes Slots Game
Slingo Fortunes stays true to the formula of mixing slot games and bingo games only this time they have added a version of a popular T.V gameshow to the mix.
That isn't to the slot games discredit however. If something works, then it is well worth including. People new to Slingo might find the adage of the Deal or No Deal aspects a bit unnecessary however, those familiar with the brand will like the welcome change to formula.
If Slingo does not sound like your thing at all then you always check out the hundreds of slot games and bingo games at Umbingo like the Slingo Fluffy Favourites slot. If at any point you feel like trying a blend of the two, Slingo Fortunes is not a bad place to go.