King Kong Cash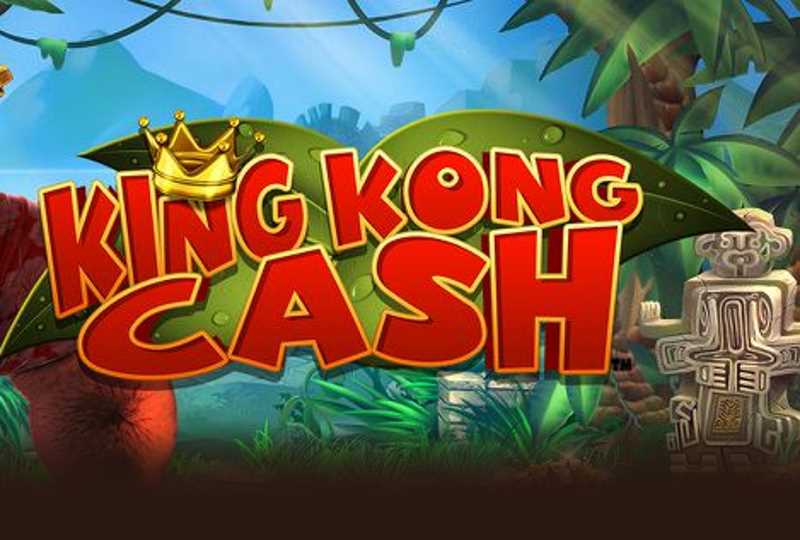 The king of the jungle returns, this time with boat-loads of cash in his furry pockets! The free bingo sites brings over to its followers this loved slot game. Also, we cater slot fans with special promotions, adding to our bingo games bonuses.
Summary of King Kong Cash UK slot
Blueprint Gaming have gone above and beyond yet again with the release of this new online slot: King Kong Cash. We've never come across a slot quite like this before. Yes it is true that this theme is quite common in most online slot games, but that doesn't then mean that this is anything similar to it, other than in name only obviously.
King Kong is still just as relevant in pop culture then it seems, which is something that we can't help but be excited about, considering we happen to be some of the biggest Kong fans ever. If you are someone who enjoys slots that ar very vibrant in nature and offer you a lot from a little then this is the slot for you!
King Kong Cash just so happens to be a 5 reel slot, sporting 3 rows and 20 fixed pay-lines. We agree that this is quite a similar lay-out to most other free slot game out there, but hey, this is a slot that marches to the sound of its own drum, one that stands head and shoulders above all other pretenders (slots that are of the kong theme). Everyone should know the story of Kong at this point, but if you don't then here's a quick summary.
An ape that is taken away from home in order to be paraded around for the entertainment of New Yorkers. It's actually quite refreshing to see a slot give a different take, putting Kong in his home, with an actual smile on his face, rather than blood seeping through his teeth and nothing but killing on the brain. If you find yourself still with questions, then we would recommend you read the rest of our written review below!
Quick Links: Fluffy Favourites | Starburst | Rainbow Riches Pick 'n' Mix | Shaman's Dream |
White Wizard | Fireworks Frenzy | Action Bank

Expectation vs Reality on King Kong Cash Online slot
Blueprint Gaming are very good at their job, which isn't too hard to question given their track record with slots similar to this one. King Kong Cash does everything right, which is not something we can state often. King Kong Cash does a great job in balancing gameplay elements with some very bold and imaginative features that will no doubt see you spinning this slot for hours on end!
King Kong has never looked and sounded so fun before! Which is something that you will know for yourself should you play this slot outright. Fans of Kong rejoice! We finally have an appropriate slot for him. If this is not what you expected why not check out our bingo games instead for some free no deposit bingo?
Placing your bets on King Kong Cash
The look and feel of this slot is very well-done, and will encourage repeated plays on these reels simply to see how they change and shift when wins are accumulated. These reels utilise some very bold and bright colours, which is not something that you might associate with Kong, but in this one it just works.
The colours help emphasise the colourful nature of this slot, which is what separates this slot from some of the other doom and gloom Kong slots out there. Symbols here all offer something different in terms of scores depending on how you are putting wins together.
The more symbols you put together the higher your scores will be as a result. To the left of the reels you will see Kong himself who is slumped within his throne, wearing a crown that is jewel encrusted. Symbols in this slot depict a different animal head, an animal that exists within this alternate universe that Eyecon has created. These symbols do a great job in providing variety to your spins which is not something that we can say often.
In order to play this slot you will first need to set your bet amounts accordingly. This can be achieved at the bottom of the screen using the plus and minus symbols, once you are happy with your amount simply hit spin and away you go.
Those looking for a way to take advantage of this slots high RTP percentage will find that the autoplay mode offers just that. In this mode you simply select the amount of games you wish to run off in the distance and watch as the money begins to pour in!
Bonus Games and Bonus Features on King Kong Cash Casino
King Kong Cash is not without a wide variety of different features that help pad out this experience overall. Each of these features offer something completely new and interesting every time you stumble across them. In this slot variety is the spice of life, so if you want to impress the King, you best be matching those featured symbols!
Wilds: In King Kong Cash you can expect various different wilds to feature, all of which do something different that can help increase your scores in a handful of different ways. For example there are Banana Cannon Wilds which will add more wilds to the reels.
Golden Barrel: In this feature you will find that the reels continue to spin until you match something, tis feature is activated at random whenever Kong desires.
Hit or Miss?
If you are a fan of anything and everything Kong then you will probably play this regardless of this review, but hey, it's nice to know that there are some of you out there who are committed.
We would like to take the time to say thank you to the developer here who has shown yet again why they are one of the most creative teams in the industry thanks to this slot. If you are yet to play this slot then what are you waiting for? Play now.
Other Games from Blueprint Gaming - the developer of King Kong Cash Slot
You don't get a name like Blueprint Gaming without having a good idea on how to make a successful online slot. Blueprint Gaming are  at the forefront of online gaming, crafting multiple different online slot experiences that are played for hours on end, spanning the world over.
These guys have an eye for talent, which in todays online slot landscape can be quite difficult to find. What makes Blueprint Gaming unique is that they are always looking to better themselves with each and every new release.
Developers everywhere will spend an entire lifetime trying to imitate this developer, but they will fail simply because they don't understand what is required to become a figurehead in an industry where time is money, and creativity is the recipe for participation. If you have never played a Blueprint slot before then why not check out these slots in their catalogue:
-       Count Duckula
-       Jungle Jackpots
-       Paws of Fury
-       Any many, many more! If this slot game is not your kind of thing, why not check out Gets the Worm slot instead?