Slingo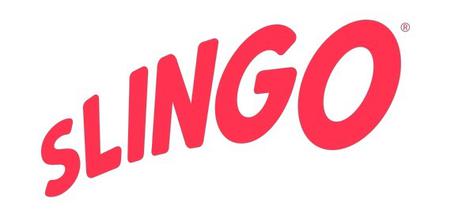 Slingo is an online game that's a cross between bingo and slots! Sounds fun, right? Well, it is! It is produced by the company Gaming Realms. They have created a unique online casino game! They provide you with the best software and operators. Have you heard of a little company called Microgaming?
Or NetEnt? Thought so! They are the two major players in the online gaming market. And Gaming Realms have made sure that they're working with them. If you love bingo and slot games, then Slingo free play is certainly the game for you! If not, then why not try something new today?
Quicklinks: Slot Temple | Rainbow Riches pick n mix free play | FS Play | 7s to Burn Free Play | Double Up Ducks | Gold Rush | Slot Bonanza Free | Shamans Dream Slots | Fluffy Favourites

Developers of Slingo: Gaming Realms 
Gaming Realms have established themselves as a successful and reputable gaming company. They actually specialise in mobile slots and best online bingo gaming content. The London Stock Exchange Group gave them a place on the list of 1000 Companies to Inspire Britain in 2016. Impressive! Gaming Realms released Slingo in 2016.
They see Slingo as being able to stand out from the crowd and secure its place in an overcrowded gaming market. They pride themselves in partnering with some of the most successful gaming operators.
Their decision to launch their own online casino has paid off! Players find their Slingo games charming and innovative. They don't stick to just Slingo though, they also create bingo games, slot games and other casual games.
Versions of Slingo Casino Games
Take a look at the list below for some Slingo game options: 
Slingo Who Wants to be a Millionaire 
Monopoly Slingo 
Slingo X Factor 
Slingo Riches 
Slingo Britain's Got Talent 
Slingo Extreme
Slingo Reveal
Slingo XXXtreme
But there are so many more, so go and discover them for yourself to play with Umbino's free bingo no deposit offer!
This list shows how many variations are out there, with differing gameplay features. Take Deal or No Deal Slingo, they made sure that they kept the key elements of the TV show in the game. The different boxes have different cash prizes in.
We like that you can easily recognise the concept the game is based on. Slingo works well with TV shows. As you can see from the list, there are many different game versions of your favourite reality TV shows. Pretty cool, right?  
How do you play Slingo? 
As we have said, Slingo combines slot machines and bingo together in one fun game. But these are far too different to make a successful game, right? Wrong! We know that some people like going to bingo to spend time with their friends.
Maybe it's their one social outing of the week. Whereas some people like being able to play slot games because of their fast-paced nature. Some people like playing online slot games in the comfort of their own home! (We know we do).
These games are dear to the hearts of gamblers, and some might be set in their ways. But change is good! And the combination of all of the above is a genius idea, and fast becoming a favourite among gamers! There are the best bingo promotions and bonuses in this game.
Slingo combines them so well. They have kept the Spins feature from slot games, which helps add to the player's anticipation and excitement. Then from players beloved bingo games they have kept in the marking off of numbers from your card and watching a ball drop.
Plus there are features like Wild symbols in the game. Gaming Realms have ensured that there are loads of different themed games for Slingo like the Slingo Lucky Streak slot. So you're bound to find one that intrigues you. 
Slingo Board
So what does the game actually look like I hear you ask? Slingo games like this and the Slingo Berserk slot are played on a 5x5 grid. The aim of the game is to earn prizes from 5 in row line combinations. You want to make as many of these as you can! You will be awarded more prizes the more lines that you make. Lines = money! If you want to take home the jackpot of the game (who doesn't?) then you'll need a full house. 
So when it comes to the Slingo board, it has a 75 ball bingo layout. This will sound familiar to the bingo lovers out there. The columns you'll see will have 5 numbers drawn. During the first round of the game, the numbers will be from 1 to 15, continuing on through the rounds.
You can make winning lines and combinations in any direction. Be it diagonally, horizontally or vertically. This is one of the great things about Slingo! One of the benefits of Slingo is the generous betting ranges. Games can range from a 50p minimum bet and a maximum of £100. 
Too confusing? Find other online slot games here.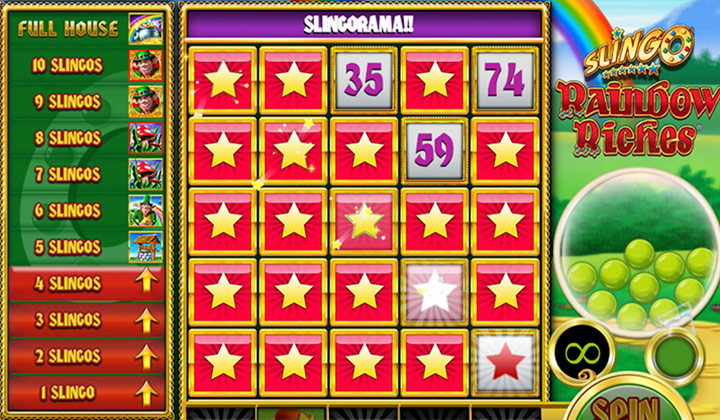 Last thoughts on Slingo - Hit or Miss?
Want to try something fresh and new? Are you tired of the same old slot games, with the same old bonuses? Then we definitely recommend Slingo online bingo game like this title or the Slingo Fortunes slot! It is an innovative and fun game no matter what version of it you play.
Although our favourite is Monopoly Slingo. But you should try them all! The gameplay is really easy to navigate. This is always a bonus, especially when you are trying something new. Gaming Realms have ensured that there are adaptable betting ranges. This clever because it will attract players of different means. Anyone can try this game!
Even though it's a relatively new game, we are pretty sure it's going to become a classic and a fan favourite. Gaming Realms have created something truly original in the iGaming world. They should be proud. Well, what are you waiting for? Embrace the change and try a Slingo game today. Play Sirens Serenade slot if you don't fancy this one.
Also, check out our blog to learn more on slots and bingo, such as strategies, bingo games, lingo etc.