Slingo Extreme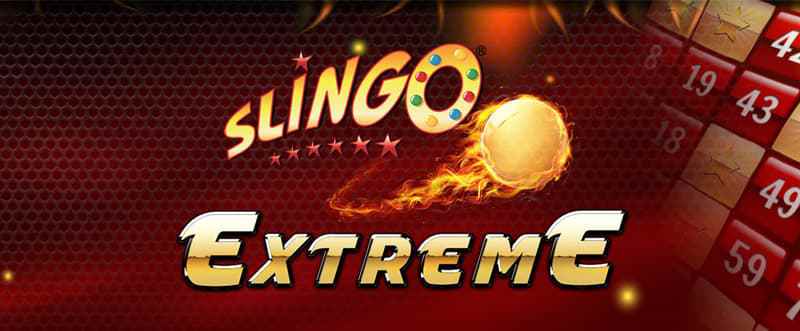 You'll find yourself in a right ol' tizzy with Slingo Extreme from the notorious Slingo, we'll tell you that for free here at one of the best bingo sites uk, Umbingo! Slingo Extreme is considered by many to be the best of the best as far as Slingo games go — a whirring combination of breakneck gameplay and big wins set across a 5x5 grid.
Think you know Slingo Extreme because you've played some of the other offerings from the Slingo catalogue? Think again, this is a different kind of game, a hybrid of classic online slot gameplay and classic bingo. Check out the rest of the casino games review to learn more about the craziness that is Slingo Extreme. 
Quicklinks: Free Spins Wizard | Lost Island | Sugar Train | King Kong Cash | Starburst | Action Bank | Enchanted Prince | 99 Time

Slingo Extreme Slots Developer - Slingo Originals
Slingo are no strangers to online gaming enthusiasts. Slingo Originals is a developer who likes to take chances. Games like Slingo Extreme have set them apart from their competitors, so much so that their competitors now copy them in hope of emulating the same success. They've been in business for a few years now, which really says a lot about the quality of their online games.
It's no secret, some of the most popular online games come from their catalogue, no small feat when you consider the competition. You'll know what Look out for their jester logo, it signifies quality no matter what. For more hit Slingo games be sure to visit Umbingo, you'll the best bingo games out right now over there, some with no deposit required:
Slingo Fluffy Favourites
Slingo Fortunes
Slingo Lucky Streak
Slingo Rainbow Riches
Slingo Reveal
Slingo Riches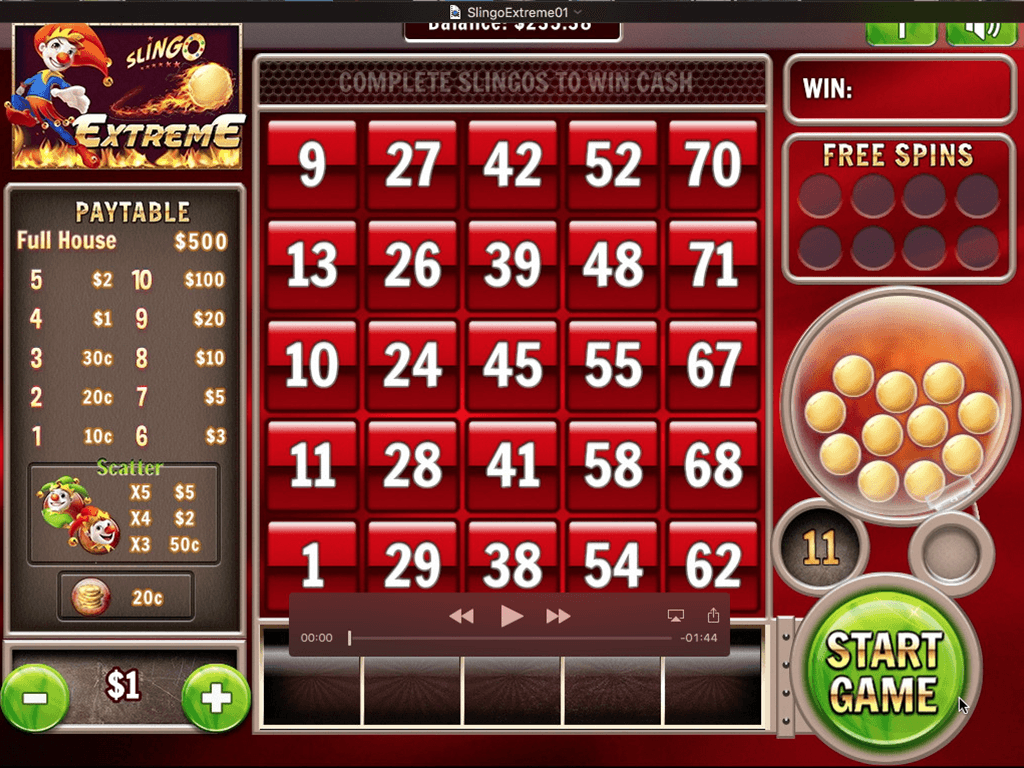 Playing Slingo Extreme Slots Game
For newbies, this game will feel strange. It's like we said at the top of the review, Slingo Extreme follows that hybrid style that most Slingo titles ride with. Know that Slingo Extreme moves a hell of a lot faster than some of the other hit Slingo games out there, and that you can get dizzy from time-to-time. Slingo Extreme is meant for the more experienced player out there.
Slingo Extreme is all about speed as you try to align stars across a 25 squares. The best piece of advice we can give is to try and fill the centre of the board as often as possible. Doing this will set you up nicely for subsequent spins — think of it like putting down the first chip in a game of Connect Four.
Visually speaking, Slingo Extreme is definitely up there with some of the sleeker slots we've played this year. Wanna know why Slingo Extreme is like Slingo XXXtreme? The biggest win you can net here is £50,000, that's right. Wanna know the best place to try and chase this white whale? Umbingo is the answer. Bingo games, slot games, you name it, Umbingo has it, and so much more!
First thing you should do is set down a starting bet, this bet can go as low as 0.5 per game, up to around 100 coins. Fortunes favour the bold in this case, meaning one should play on high amounts if they want to make the most cash. Placing the max bet will put you in contention to win the grand prize. How do you win the grand prize? Get a full house!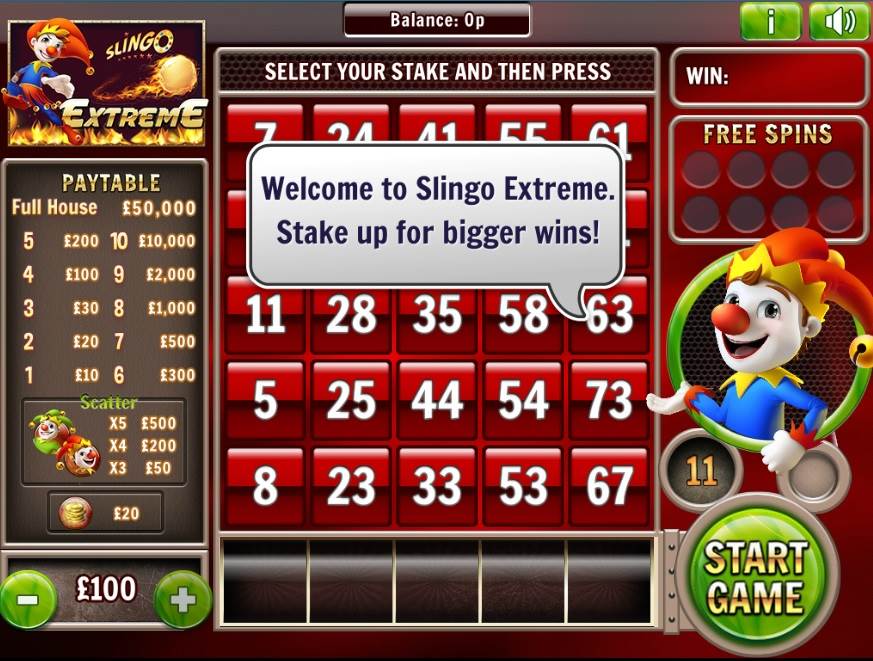 Bonus Features and Free Spins in Slingo Extreme
Free Spins: Free spins are available here, providing additional opportunities to fill those empty spaces. There is a total of up to eight free spins to play for, consider it a requirement to get involved in if you want those big wins.
Joker: A classic Slingo symbol (and its logo), the joker will wipe out any number in the column above if matched in any winning line.
Super Joker: The super joker is the big brother of the standard joker symbol. The super joker will take out any number in the whole grid if found.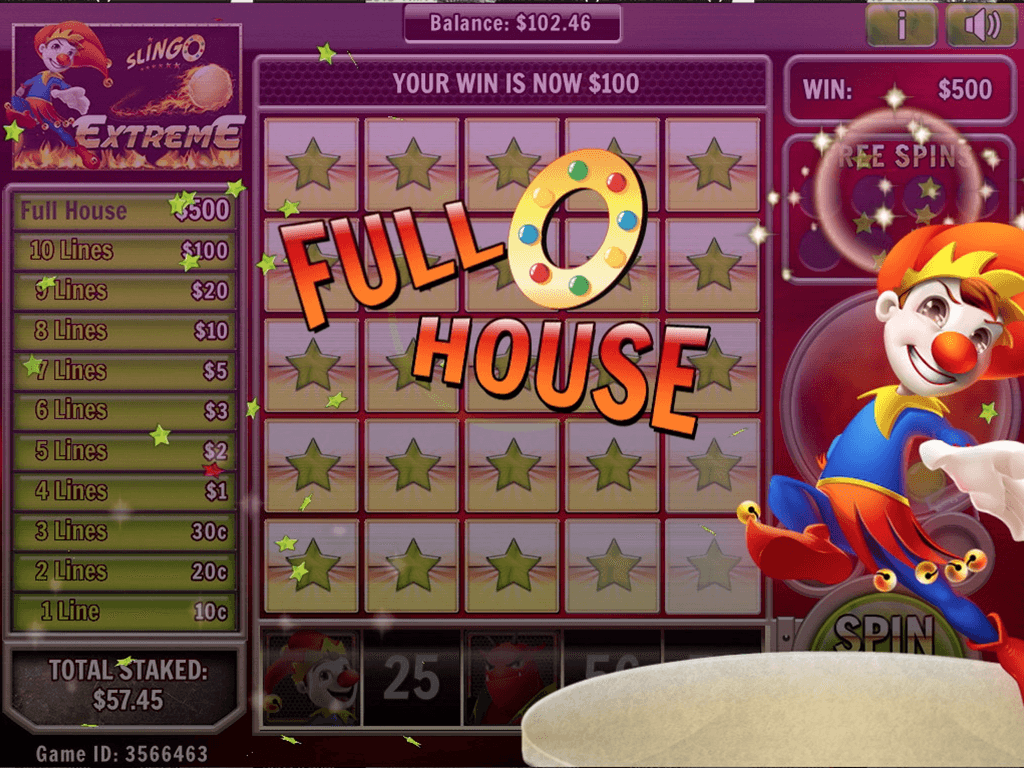 Our Take on this Online Slot
Honestly, stick with Slingo Extreme and you're set. This is one of those online games that gets better and better the more you play. The mix between bingo and slot gaming has been perfected by these guys, so you're actually hurting your wallet by not playing… Slingo has created their magnum opus with Slingo Extreme, they really have; try it out, see if it's for you. For more Slingo games at Umbingo, check out the Slingo Cascade slot.