Starburst
Developer NetEnt are back at it again with a very enjoyable slot set in space!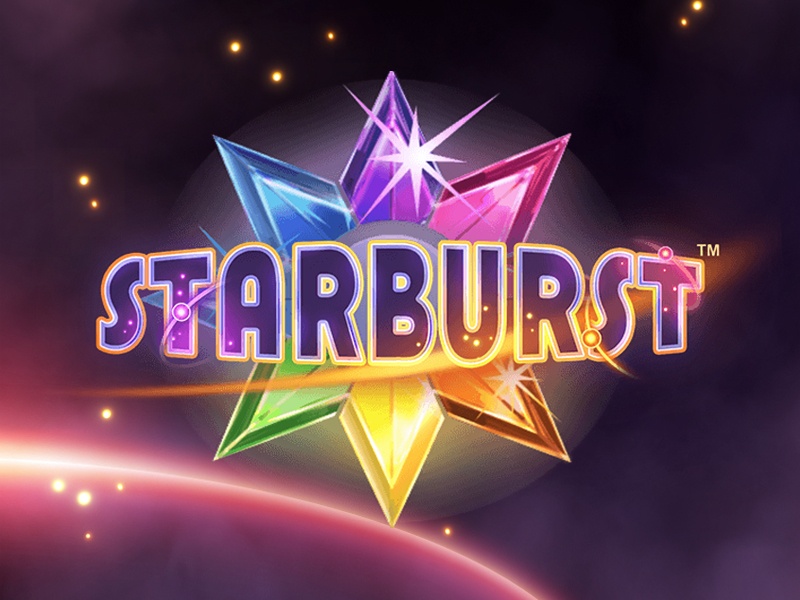 Summary of Starburst slot
In the online slot Starburst, anything is possible, and we mean everything. Never before has a space adventure been so alluring for those who wish to look beyond what they think they see. Space epics are common in a lot of developer catalogues, which can make it somewhat of a difficult task to find the best types of slots to play and experience for yourself. We personally stay with the heavy hitters, the NetEnts and other reputable developers who have had years within this industry, allowing them to fine tune all of their slots so that we as players can marvel at them. Starburst in name might lead one to believe that this is a slot based on the sweets, but we can tell you that this one will blow your head wide open. There are endless possibilities in slots such as this one, which is what makes it so appealing to begin with. Play online bingo games on Umbingo!
In terms of game matrix, Starbrust is a 5 reel by 10 pay-line game, which essentially identifies it as a very basic slot to behold. With so many space slots out there you might wonder why one would choose this one, and well the answer is simple: because it's just so damn fun. If you enjoy slots that utilise a very wide array of colours, then this one will definitely be for your tastes. Starburst is as bright as the inside of a kaleidoscope, and will hypnotise you with every spin should you let it. Slots like Starburst are trend-setters and will always see to bringing a smile on our faces for that reason alone. If you are left with questions still, then allow us to answer them for you in the rest of this review below!
Expectation vs Reality when playing this casino game
It can be easy for someone to look at this slot and consider it nothing but an eyesore. But the fact of the matter is, is that Starburst is a slot that oozes personality and machismo. Developer NetEnt clearly understand what makes a great online slot experience, and will not stop until their job is done. We have played so many slots nowadays that we know which slots are good and which are great. Starburst falls into the latter category, given the attention to detail and the highly enjoyable soundtrack that emits from the game as you're spinning. Don't write this slot off as yet another flash in the pan, because it isn't. This is Starburst, a game for the ages. Find fantastic bingo offers on Umbingo!
About Starburst online slot
In Starburst, all are welcome, which is not something a lot of slots can state outright and have us believe them. In order to play this slot you will first need to set your bet amounts accordingly, this can be achieved at the bottom of the screen within the settings tab. Bets can be placed from as little as 10p up to £100, so as you can tell there is a lot of room for someone to find enjoyment in this one. We would advise one first familiarise themselves with the pay-table before they spin, simply because there is a lot to see here, and most spins will feel like a blur during certain spins. We would class this slot as one of NetEnts finest games to date, simply because of how imaginative it is. You will not find a brighter slot out in the market today. All of the neon colours within the background and on the reels do a great job in keeping your eyes fixated within this world at all times. In this slot the goal is simple: match the various symbols you see on the reels from as little as blocks of 3. Matching 5 symbols in a row will net you more money, although you need to be playing on a high-ish amount for you to see this in real time.
Bonus Games and Bonus Features available on Starburst
If you have played any number of the NetEnt slots in their varied catalogue then you should know what to expect from this one. In Starburst you win the most cash possible when you are utilising all of the tools in your arsenal. Which essentially means that you will be wanting to use all of these additional features in coming up with the highest scores possible, which in turn will equal massive cash pay-outs for the player!
Jackpot: The jackpot here is very simple to grasp compared to other slots out there. Simply match the required jackpot symbol and watch as you are given 250 coins in return.
Wilds: In Starburst there are multiple different wilds for you to choose from. Each offer something different in a gameplay sense. You have re-spinning and expanding wilds to choose from, both of which can open one's self up too massive wins on these reels.
Hit or Miss
Starburst is unlike any other online slot that you have played for yourself. There is a lot that goes into creating a great slot, and it appears that NetEnt have the cheat code. If you have yet to play this slot for yourself, then what are you waiting for? Play now.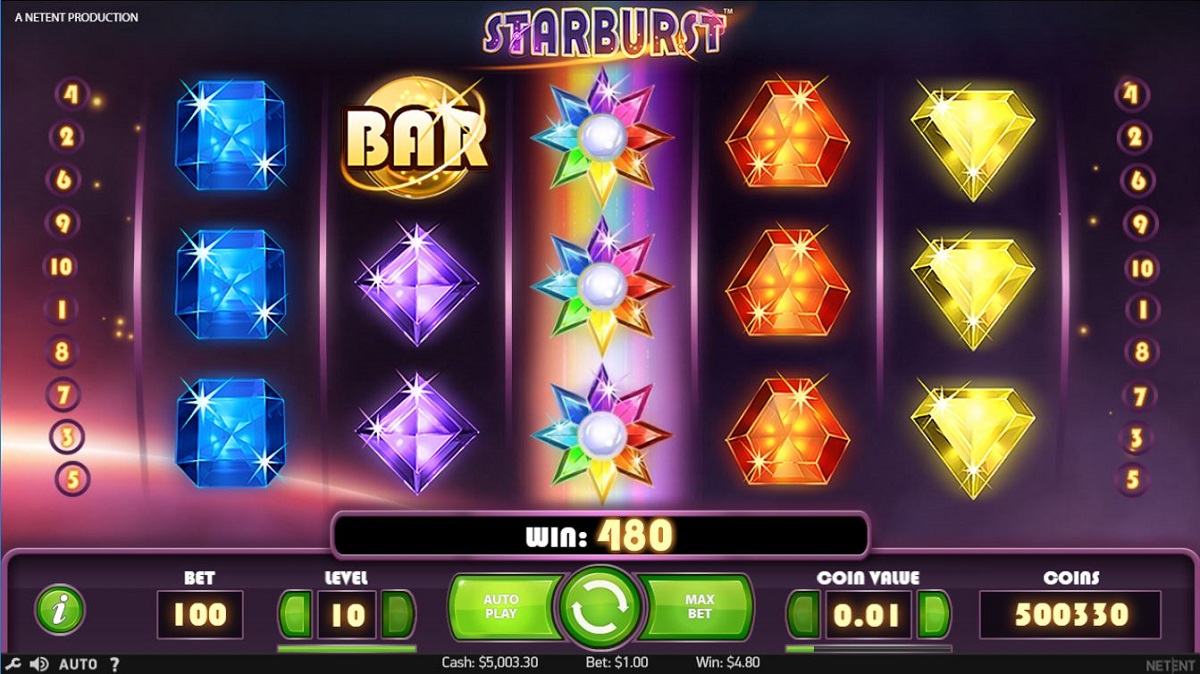 Other Games by NetEnt – the Developer of Starburst video slot
If you have played any online slot before then you will know of the name value that NetEnt carries. NetEnt are a developer who have had years within this industry; time well spent in that they have honed their craft in every possible sense. Those that benefit most from playing their slots are those who look for escapism in real-time, simply because when you play their slots you are taken to other worlds and locations that just isn't possible in reality. At this point in time, NetEnt are regarded by many as the leading figure in the online slot industry, and continue even to this day to amuse and entertain people across the globe. NetEnt are a developer who understand what makes a great slot simply because they look at it from the perspective of the player and not some faceless corporation. In NetEnt you can trust, which is quite hard to state outright nowadays consider so many developers lose sight of what's important. Slots and bingo games in the NetEnt catalogue include:
- Alien Robots
-Fluffy Favourites Fairground slot
-Cosmic Fortune
-Emoji Planet
-And many, many more!