Slingo Lucky Streak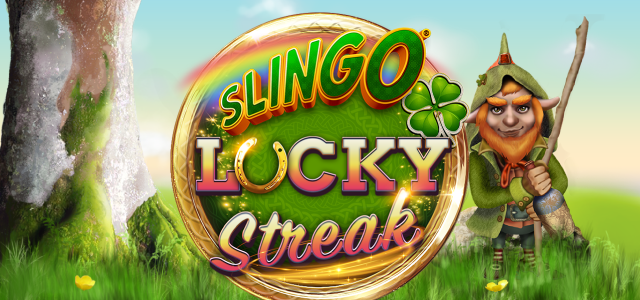 Slingo is the very clever casino game that takes some of the mechanics of slots games and some of the mechanics from bingo games and brings them together to create something new. And you can play these amazing games on the best online bingo sites like Umbingo.
Slingo has taken the online casino world by storm and has become a respectable genre all on its own. But who was mad enough to dream up such a concept? If you want to play more slingo titles or try slot games, you can do so after you sign up and deposit at Umbingo casino.
Quicklinks: Gets the Worm | Irish Luck Jackpot | Tomb Raider Slot | Guns n Roses Video Slot | Lucky Irish Spins | Aloha Slot Game | Slingo | Gonzos Quest

Slingo Lucky Streak Developer - Slingo Originals
As one would expect by now, a casino game with Slingo in the title is developed by Slingo originals. It could only be them.
Slingo Originals took of slot games and decided it would be a good idea to slam them together with the mechanics of a bingo game. It sounds ridiculous yet it has worked for the past twenty five years. In that time, Slingo Originals have given us such games as:
Slingo Lightning

Slingo Reel King

Slingo ante Up

Slingo Lucky Streak
That's a lot of variations on the Slingo formula. Fans of bingo games will be pleased with this innovation, especially those that have exhausted all of the games available on Umbingo, the home of the best online bingo.
With so many different Slingo games, how does Slingo Lucky Streak do things differently?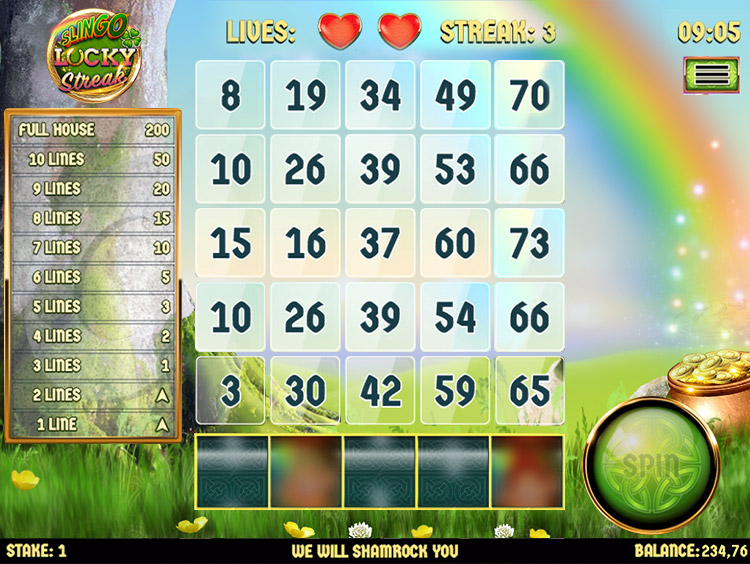 Gameplay and Symbols
Slingo Lucky Streak is a slot game that functions very much like its predecessors only now it is covered in a luck of the Irish theme. It is still on a 5x5 grid and still has the 5x1 card at the bottom that is used in most bingo games.
To fill your bingo card, players will need to match up the numbers on the slot games reels. These act as the bingo games caller. To win, the player needs to fill out their bingo card and Slingo Lucky Streak rewards players with 1x their stake for three lines filled.
The players take can be anywhere between 0.2 and 0.25 for a spin. The games RTP rate is a bit lower than the average bingo game on Umbingo at 95%.
To differ from some of the other slot games in the Slingo Originals catalogue, Slingo Lucky streak has a lives system. The player starts with two lives and lose one if they fail to land anything on a spin. Winning on a spin will grant you an extra life. The player gets to keep spinning until they have lost all their lives or have finished all 12 pay lines.
This isn't the only feature that makes Slingo Lucky Streak different from the Slingo XXXtreme slot.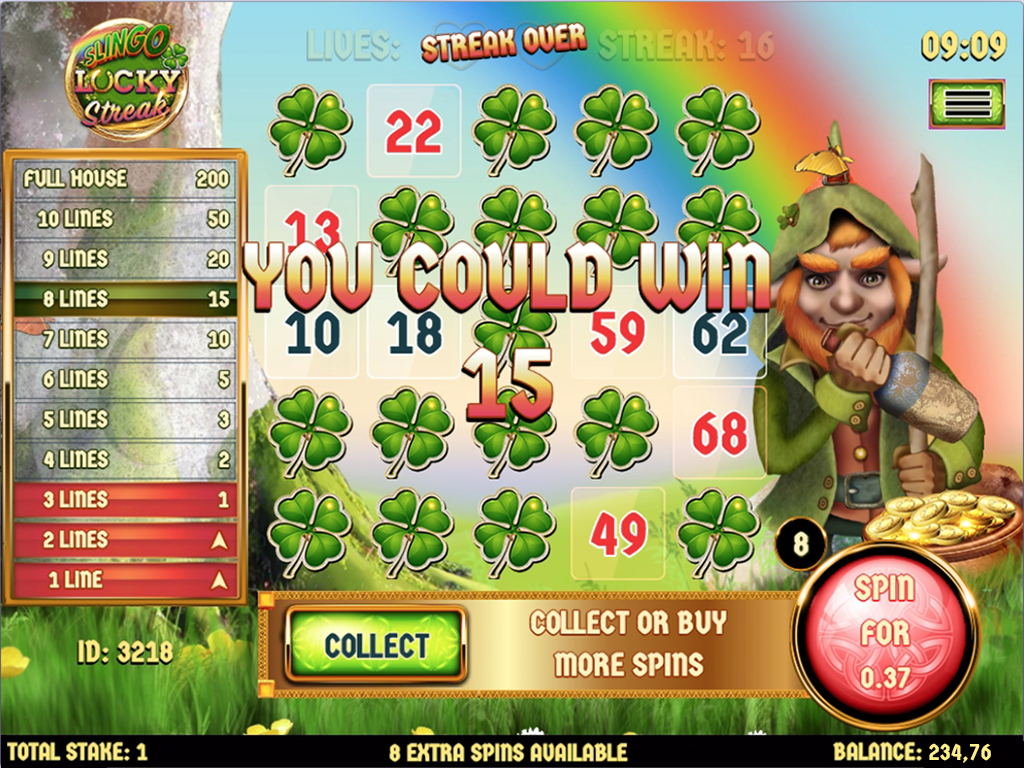 Bonus features in Slingo Lucky Streak Slot Game
Alongside the other symbols found in many bingo games, there are a few others to be aware of. There are the green leprechauns that make up the slot games wilds. These wilds allow players to fill any slot on the reels and the red leprechauns will allow the player to cross off any number on their bingo card.
There is also an additional wilds feature that is triggered by the leprechaun at the side of the reels. When he waves his hands at random, more wilds will be magically added to the reels.
These features are designed to help you however Slingo Lucky Streak also adds the red crosses to the reels. Landing these blocks pay lines and so are to be avoided at all times.
Like with other Slingo slot games, players can choose to buy more spins in a round. If your lives run out, you can elect to buy an extra 8 re-spins to continue on your current card. This is extremely helpful if you are waiting on one more number and have run out of lives.
For more amazing Slingo games, give Slingo Riches slot a try!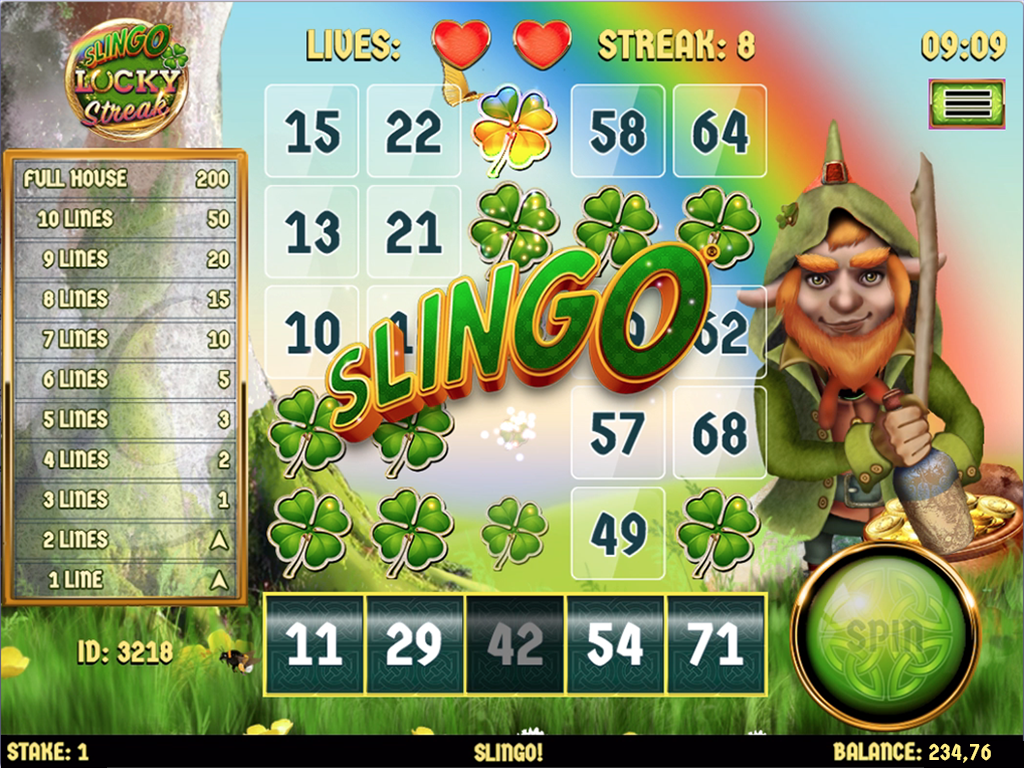 Final thoughts on Slingo Lucky Streak Slots
Slingo Lucky Streak features everything that you would expect from a Slingo originals game and so much more. If you are tired of the regular bingo games on Umbingo, why not try a bingo game with a twist.
The clever theming and lives feature helps distinguish Slingo Lucky Streak from its counterparts and acts a perfect bridge between standard bingo games and Slingo Fortunes slot.