Aloha!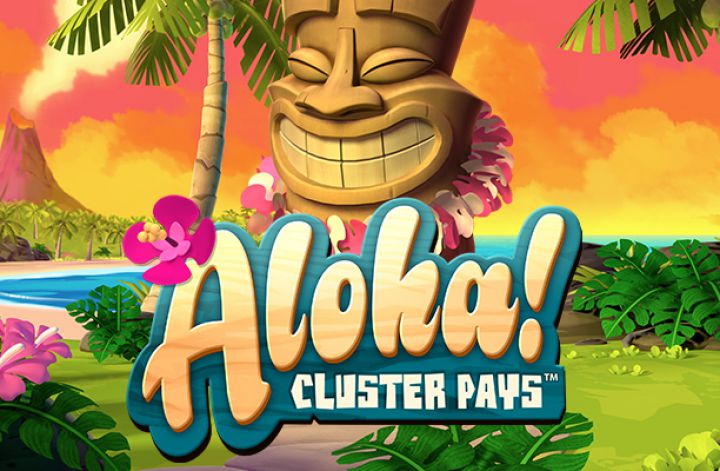 Have you ever played a cluster slot before? It's really fun! Umbingo, the home of free bingo sites and games, has now brought this slot game for you.
Summary of Aloha Slot
Developer NetEnt are no strangers to trying out some really creative ideas when it comes to their online slots - and here we are bringing their games alongside some of the top online casino promotions; check out our 500 free spins offer for Aloha, or our bingo offers for something different.
Just look at this slot, Aloha Cluster Pays to see that out for yourself. If you have never fully experienced a cluster slot before then there is no greater starter slot than this one. NetEnt have gone above and beyond to create something that offers something different to all of the other slots out there that are somewhat traditional in a sense.
There is so much to be excited about in this slot that we are kind of struggling to put it all into words. It's like how do you describe a feeling without feeling it for yourself? Put it this way, if there was ever a slot that we would play no matter what time of day it is, it would be this one!
Aloha Cluster Pays is a 6 reel slot that has you matching symbols in a completely different way that what you're used too. The goal in this slot is to clump together as many symbols as you can find.
This means that symbols aren't really matched in a specific direction; all symbols are free-flowing at can be matched in a variety of different ways, which is what makes it such a fun slot to behold to begin with.
This slot might ruin other slots out there for you, so try to play this slot before you play any others during a single night of slot playing. Be sure to check out the rest of our written review below to find out more about slot machines like Aloha, and other free slot games!
Quick Links: Fluffy Favourites | Starburst | Rainbow Riches Pick 'n' Mix | Shaman's Dream |
White Wizard | Fireworks Frenzy | Action Bank

Expectation vs Reality when playing Aloha
It's hard to truly gauge what kind of slot this is for one to expect something familiar. You see, normally we would measure this slot against others that are similar to it in the market, but we can't recall playing a slot similar to this one.
This is an experiment done right, which is not something we can state with confidence often. Slots such as this one will always be a must play for us, which is why we are delighted to review it for you here. If you are not excited with this, then you might want to check out our best bingo games.
How to Play Aloha - Getting Started
In terms of themes, this slot has you playing on a remote island with a very active volcano looming off in the distance. This scene is somewhat of a representation of this slots theme, where it exists on its own island, with no imitations.
The soundtrack of this slot does a great job in relaxing you compared to the fast acting symbols on the reels. Symbols in this slot take the shape of various different tiki masks that all offer something different depending on the symbol itself and how many you have managed to cluster together. In order to play this slot you will first need to set your bet amounts accordingly.
This can be achieved at the bottom of the screen as well as input buttons for an autoplay mode that will let you spin this slot off in the background as you go about other activities in your life. We should also state that this slot has a demo mode that allows you to get a few practice spins under your belt before you try your hand with cash on the line.
Bonus Games and Bonus Features available on Aloha
Aloha Cluster Pays is our favourite online slot, there we said it, so maybe that makes us biased, but you will not find a slot with more creative additional features.
Each of these features will offer something completely different with every spin. We would recommend that you play for a good couple of spins in order to get a hand for what's to come, this is where the demo mode will come in handy to be honest. You will not find features quite like this in any slot period. Features here include:
Sticky Respins: Matching a clustered block will then give you the chance  to re-spin it, which will give you a chance to cluster one more time which can grant you some additional wins too.
Stacking Symbols: During standard gameplay, there are various different chances for one to stack certain symbols on the reels which will help you come out on top with the highest scores possible.
Free Spins: Free spins are unique in that they give you various different opportunities to come out on top. These free spins will come when matching certain symbols on the reels, with the more symbols you match equalling the more free spins you earn.
Hit or Miss
We've already said it here, but this is our favourite online slot for reasons that should have been made clear above. This slot is a trend-setter, and one that will continue to dominate the industry. Thank you NetEnt, now you go experience it!
Other Games by NetEnt - the Developer of Aloha Casino Game
If you have played any online slot before then you will know of the name value that NetEnt carries. NetEnt are a developer who have had years within this industry; time well spent in that they have honed their craft in every possible sense.
Those that benefit most from playing their slots are those who look for escapism in real-time, simply because when you play their slots you are taken to other worlds and locations that just isn't possible in reality. At this point in time, NetEnt are regarded by many as the leading figure in the online slot industry, and continue even to this day to amuse and entertain people across the globe.
NetEnt are a developer who understand what makes a great slot simply because they look at it from the perspective of the player and not some faceless corporation. In NetEnt you can trust, which is quite hard to state outright nowadays consider so many developers lose sight of what's important. Slots in the NetEnt catalogue include:
Boom Brothers
Disco Spins
Elements 
Aloha! Christmas
And many, many more! If you liked this game why not also give a try on Temple of Iris Jackpot Slot?