Gems n Jewels


In a world of crazy slot themes, often set in Ancient Egypt, outer space or… Ireland, sometimes it's nice to find those that take it back to the old school style. Sign up to Umbingo today to play this slot and for 15 free bingo no deposit offers!
Remember Bejeweled? At the time, it was maybe the most popular mobile phone game in the world, and since then, a whole bunch of the best online bingo, slots and other bingo online games with a gem or jewel theme have come out. And Saucify's Gems n Jewels is another one of those.
The tricky part in making a slot game with a simple theme (and one that is pretty heavily saturated also) is making it stand out from the crowd. You could load it with exciting slot bonuses, develop excellent graphics or just keep it real simple and see if sticks.
Saucify have kind of gone for a combination of all of these things in Gems n Jewels and in doing so, have created a more than playable online slot machine. Play it at Umbingo today, where you can find all sorts of free bingo, no deposit slots and all kinds of other online slots as well.
Quicklinks: White Wizard Slots | Lost Island Slots | Sugar Train Slot Game | King Kong Cash Slots | Starburst Free | Action Bank Review | Enchanted Prince Slot | 99 Time Review

About Gems N Jewels Slots Developer - Saucify
Saucify have made some of the best online bingo games and slot games over the years, despite not actually having a very extensive collection to their belt. Quality over quantity is the mantra at Saucify, and quality they have in abundance.
Play Saucify's no deposit bingo and free to play slots at the best online bingo and slots casino, Umbingo, today. The majority of games there, Gems n Jewels included, are available to play on any device, from mobile phone to computer.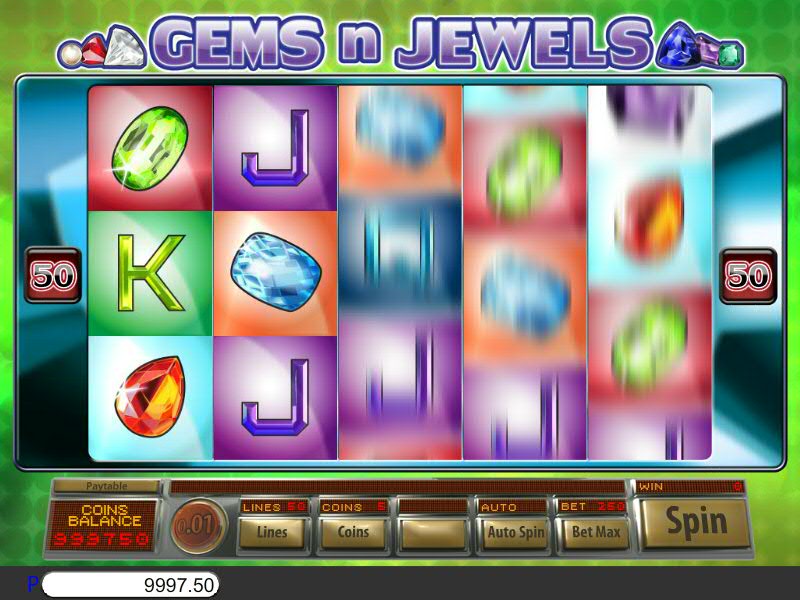 Playing Gems n Jewels Slots Game
As is the overall vibe of the game, the reel configuration is quite straightforward in Gems n Jewels too. Five reels cross with three rows, and in there you will find 50 ways to win. To access these, you will need to stake anywhere between 50p and £60, and don't forget - you can use the auto-spin option if you want to take your hands off the wheel.
What's more, Gems n Jewels is available to play on all of your devices, so you can take it on the go with you and play on a mobile phone or chill in the comfort of your own home and play on a desktop computer or laptop.
The gameplay itself is made up of simply landing symbols of the same formation on a line. The diamonds are the most valuable of these - landing one on every reel will earn you a whopping 6000 coins. Even if you only land three diamonds in a row you will still be able to cash in on 1300 coins. Also, the diamond is the wild symbol so any symbols on the reels can be substituted by it.
The exception to this is the scatters, which come in the form of a ruby and an emerald.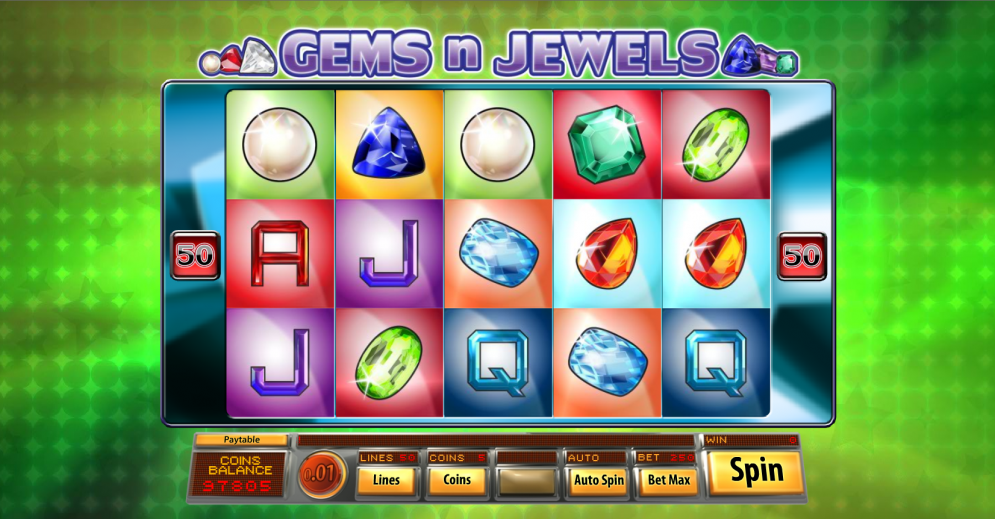 Bonus Features and Free Spins in Gems n Jewels
Compared to the best online bingo and slot bonuses on the market, the bonus features in Gems n Jewels aren't exactly top of the class. The Free Spins slot bonus is the only one on offer here.
That being said, as far as Free Spins bonus rounds go, this one can be pretty lucrative. That's because every win you make with a free spin will earn you triple your moneys. So, those five diamond wilds we mentioned earlier? That would leave you looking at a very tasty 18,000 coins, which is quite an impressive yield indeed.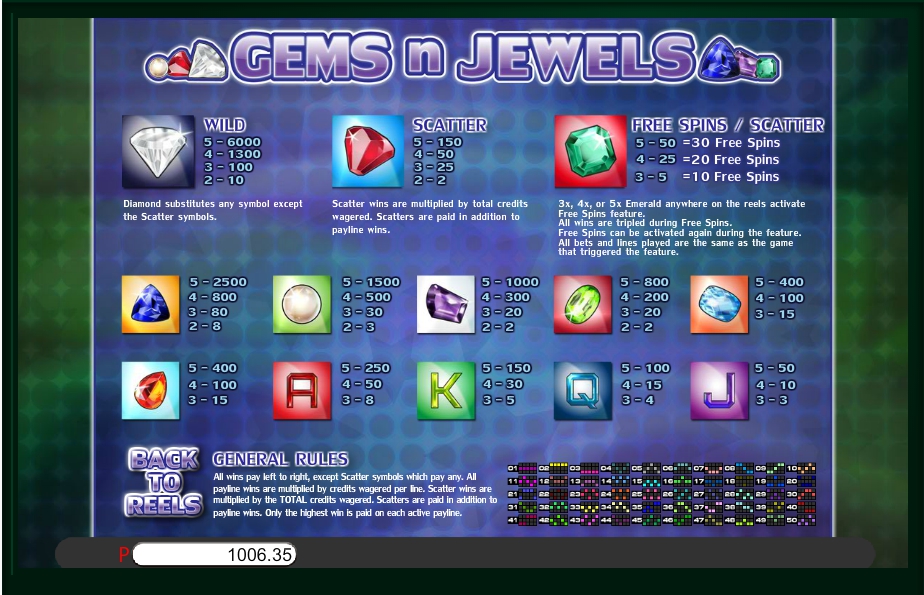 Our Take on this Online Slot
Low intensity slots such as Gems n Jewels are actually quite good vibes when you're in the mood for them. Sometimes you just do not have the mental energy to be able to figure out hundreds of different slot bonuses while having to adjust to the intense visual and sound stimulation that some slots offer.
And, you can play Gems n Jewels at Umbingo, which is the home of no deposit bingo and free to play slots like Gems Gone Wild slot. With a portfolio including some of the best online bingo and slots on the market and an excellent signup offer to boot, you'd be missing out if you didn't kick off your Gems n Jewels action there.