Temple of Iris Jackpot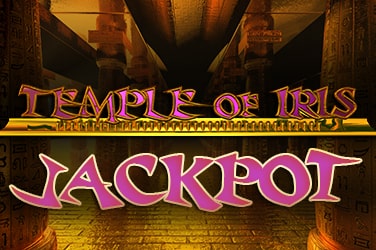 The jackpot slot that you have been waiting for! We even brought it at Umbingo for you, even though we are considered the home of bingo slot sites.
Summary of Temple of Iris Jackpot Online Slot
Allow us to reintroduce to you, Temple of Iris Jackpot, the latest online slot to receive the jackpot treatment within the Eyecon catalogue. The original slot was one of the most popular slots going, and it still is to be honest, which is probably why developer Eyecon have came out with this slot. If you were worried that this slot was a simple cash grab then allow us to ease your mind.
This slot is identical to the original, only with a more financial edge, which if anything makes it twice as good. Remember that no one is forcing you to prefer this version over the original. Even more, if you are interested in bingo games, we are still the best choice you could make.
Slots with a hint of mystery will always see players flocking from far and wide to see what all the fuss is about. In this one the secrets come in the form of jackpots and bonuses that the player can earn/accumulate over the course of a handful of different spins.
The ancient Egyptians lived the life of luxury, so who says that you can't do the same. This theme is popular in the first place  amongst free slot games, because of this reason alone. Want more specs? Allow us to tell you more. This slot is a 5 reel by 25 pay-line type of game, meaning there is a lot on offer for those wanting to reap the benefits of this slots high RTP percentage.
If you find yourself still clambering for more info on this slot, then why not read the rest of this review below, there's a lot to get into and any knowledge is good knowledge don't you think?
Quick Links: Temple of Iris | Stampede | Gonzo's Quest | King Kong Cash |

Expectation vs Reality in Temple of Iris Jackpot
Temple of Iris Jackpot is a slot that might not work on paper, it could have easily been an example of a tried attempt at making money on a very popular slot that then failed.
Well we are happy to report that this is not the case, as Temple of Iris Jackpot is a slot that stands on its own two feet despite being a direct copy of the original only with a more financial edge overall. If you looked at the original and wished that there was more ways to earn big cash then this is the slot for you!
To make it even better for you we have accomodated some of the best slot and bingo promotional offers, the likes of our free bingo bonus no deposit!
Playing Temple of Iris Jackpot Casino Slot
If you were to give this slot to someone who has never played an online slot before and asked them to sit and spin, the results you would find would surprise you. This slot is very simple to grasp, which might put a lot of veterans off, but we're here to tell you that it wont.
Temple of Isis Jackpot does a great job in balancing what you see on these reels in hope of coming out with some of the highest scores possible. Symbols in this slot take the shape of the many different ancient Egypt symbols that you've come to expect. In order to win money in this slot you will first need to set your bet amounts accordingly.
This can be achieved at the bottom of the screen. In this slot there is a very generous margin for you to choose from, so don't go into this one thinking that you are limited in how you wish to play. Each of the symbols in this slot carry a different base value that can be extracted. Those who have played this slot before will know how fun it is to play generally.
Bonus Games/Bonus Features available on Temple of Iris Jackpot
Like the original, this slot is somewhat basic to grasp, and we meant it. The reasoning behind this is the very conventional additional features that make it so that you can earn more with each and every spin of these reels. What makes this slot different is the additional jackpot element that will change the way that you approach each spin outright.
Scatter: The pyramid symbol is this slots chosen scatter symbol. The scatter will throw around symbols across the reels when matched in the winning pay-line. Scatters are useful in that they will see the addition of free spins into different games. Free spins are useful in that they provide multipliers that increase scores tenfold.
Jackpot: As we've already stated, there is an added emphasis on the jackpot in this slot. The jackpot in this slot is progressive, meaning there are multiple ways to win it. We would encourage you to play this slot as often as possible to utilise this jackpot, although it will build on its own during gameplay so you might find it's easier to simply keep your fingers crossed.
Hit or Miss
Temple of Iris Jackpot is a very welcome addition to the game series, and is not one that we are soon to forget about. If you have yet to play this slot then what are you waiting for? There are wins waiting for you.
Other Games from Eyecon - the developer of Temple of Iris Jackpot Slot
Developer Eyecon is among some of the most creative minds within the industry today, their attention to detail and innovative ideas have always existed on the forefront of the online gaming industry. The name Eyecon is a play on the word icon, which is very apropos considering how well these guys craft slots that are played by thousands everyday, spanning multiple different countries and cultures in doing so.
With each and every new release from Eyecon comes the expectation of something different. If you take one thing away from these guys, it should be their penchant for success through experimenting with themes and gameplay elements that only heighten their games.
Never will you come across a slot from Eyecon that abuses your money in hope of bleeding you dry; these guys actually care about your experience, just as much as they enjoy making money, and making the worlds that you are given a chance to explore for yourselves. Slots in their catalogue include:
- Happy Mushroom
- Kitty Payout
- Stampede
- And many, many more! One that we. vouch for here at Umbingo is 88 Fortunes Slot.