88 Fortunes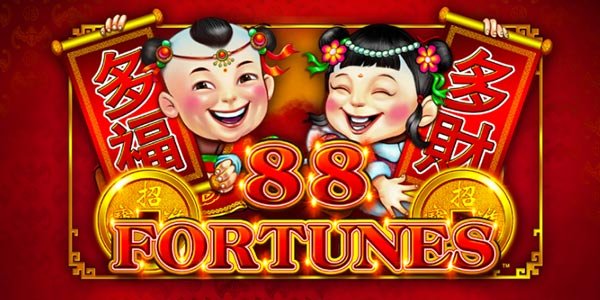 In 88 Fortunes the possibilities are endless, what are you capable of? Check out this slot in Umbingo, which is amongst the best bingo slot sites, offering a huge variety games.
Summary of 88 Fortunes Slots Games
For those of you out there who have never played a Barcrest slot before then you will know that there is always going to be some level of immersion overall. We love it when developers go above and beyond to create experiences that are so unique that it encourages other developers to create poor copies of them, this is how you know you've made it within the industry, and basically there have been so many poor carbon copies of 88 Fortunes, which means it must have made a massive mark on the industry as a whole.
88 Fortunes is a slot that showcases Chinese culture in all of its glory. If you enjoy slots that are very cultural then you will find that this slot offers you everything you could ever want and more. Find and play more free slot games here.
For those that don't know, 88 Fortunes is a 5 reel sort of swing that has around 3 rows. In total there are 243 different ways of coming out on top, meaning this slot is incredibly versatile in giving players everything they could want and more.
Versatile slots such as this one will always be our go too slots to play as they are generally fun to play and every time we pick it up we are given a chance to get a completely new cash pay-out. 88 Fortunes is chocked full of additional features also which will encourage players to completely go above and beyond to play this slot at any moment that they can. Be sure to check out the rest of our written review to find out more!
Quick Links: Temple of Iris | Gonzo's Quest | King Kong Cash |

Expectation vs Reality on 88 Fortunes Casino Game
88 Fortunes might be one of the better online slots from developer Barcrest simply because of how well they toe the line between additional features and the appearance of this slot overall.
If you were in the market for a slot that is not phased by other slots in the market then you will find that Barcrest do an excellent job in creating something within their own image. 88 Fortunes is an incredible slot to play compared to the dark and drab slots out there that are somewhat dull. Play this slot if you enjoy games that are very versatile.
Playing 88 Fortunes online slot
Looking to win cash in this slot? The rules are simple, all you need to do is match the various different symbols in repeat succession on these reels. It goes without saying but the more you play the more you will earn as a result. We will always encourage one to play a slot if we believe that it is worthwhile.
88 Fortunes is a very lavish looking slot that is very appropriate to its given theme. There is an emphasis on the Chinese culture in both the look of the reels but the symbols themselves. Dollars, turtles and piles of gold are just a few examples of the symbols that you will be matching on the reels. Each of these symbols represent something different in terms of scores, and it is up to you to extract that value outright.
There are also quite a few low value symbols that will add to your victories. In order to play this slot you will first need to set your coin and bet amounts accordingly. This can be achieved at the bottom of the screen. Once you are happy with your selections you then need only hit spin and away you go! Another way to raise your winning chances is to employ our slot and free no deposit bingo promotions. 
Bonus Games and Bonus Features available on 88 Fortunes
88 Fortunes would not be one of the most popular online slots going today if it weren't for the various additional features that follow. This is a Barcrest slot after all, which should give you an idea on what to expect in this slot before you even play it out for yourself. We would like to state that not every spin will see the inclusion of these features, and you will have to earn a few of them over the course of your spins.
Free Spins: Free spins are useful in any online slot because they offer multipliers that will throw scores up the pay-table at an alarming rate. These symbols are unlocked though the matching of scatter symbols. The more scatters you can string together the more free spins you earn. These scatters are represented by the gong symbols.
Jackpot: Like any slot, there is an added jackpot included along the way, a jackpot that you can earn through matching certain symbols on the reels, we don't want to ruin the surprise but basically these jackpot symbols are quite hard to come by, so don't go thinking that you will earn this with every spin.
Hit or Miss?
88 Fortunes is a hit, there's no doubt in our minds. If you consider yourself to be somewhat of an online slot enthusiast, then you will understand the importance of this slot in the grand scheme of things. So what are you waiting for? If you are yet to play this slot, what's keeping you? If slots are not your thing, you can check out here our online bingo games instead.
Other Games by Barcrest - the Developer of 88 Fortunes
How many times have you heard of a developer that have managed to stay in business for longer than a decade? It isn't common and there's a reason for that, and the short answer is not a lot of people can hack the drive and determination required.
Developer Barcrest opened their doors back in 1968, and have managed to change with the times almost like a chameleon.These guys understand that in order to be successful you need to adapt or perish. Their catalogue is as varied as the day is long, and with every passing year comes another batch of games that they can add to their arsenal.
There is a clear focus on user experiences with their slots, which is what makes them such a force to be reckoned with. If you are ever looking for a developer that just gets it, then you can be sure that Barcrest have you covered.
Longevity is not a word that most developers can relate to, if you want a developer who goes above and beyond to appeal to you, the players, then why not do yourself a favour and look at but a few of their slots:
- Barkin Mad
- Call of Fruity
- Monopoly Big Event 
- And many, many more!
If you didn't like this games' features, why not check out Stampede slot instead?