Rainbow Riches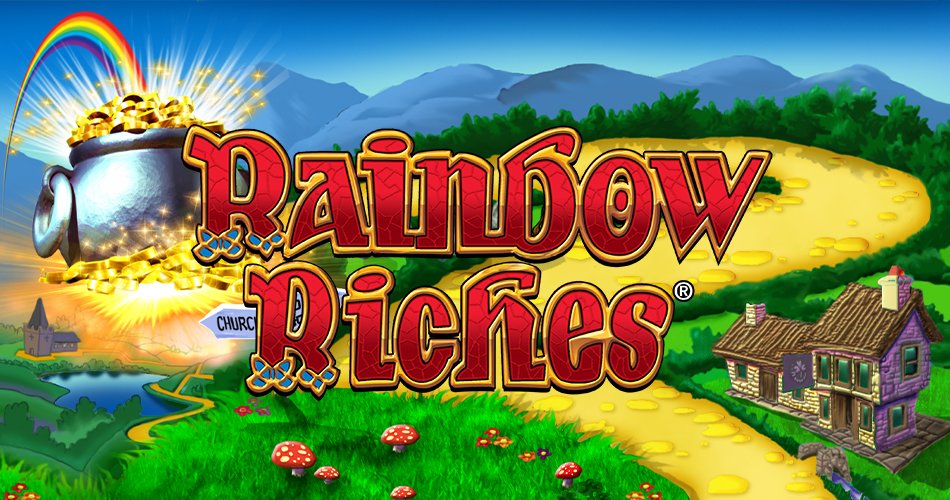 Irish-themed slots don't normally excite us, but this is clearly the exception!
Summary of Rainbow Riches - Introduction
We lost count of how many Irish themed slots there is out in the market presently, so much so that it's beginning to give us a headache when we try to think too hard. You need only see for yourself by searching any of the top casino sites to see how many of these exist. So as you can imagine, finding a quality Irish slot can be like finding a needle in a haystack.
We believe that we have found the answer to all of your woes. Rainbow Riches, a slot from developer Barcrest has managed to turn our opinions around ever-so-slightly. This slot is an Irish slot done right, that has just enough green to keep fans of this theme excited also.
Grab your Guinness and grab your shamrocks, because Rainbow Riches is here to stay. Rainbow Riches is actually one of the most popular online slots going today, and there must be a reason for that right? Play Umbingo for the best free online bingo sites games!
Rainbow Riches is a 5 reel by 25 pay-line slot that is chocked to the brim full of additional features and things of the like. In this slot you will notice that there are never two spins the same. In total there are around 243 different ways of coming out on top. Variety is the spice of life, and trust us when we tell you that Rainbow Riches has this in spades.
Rainbows appear to be pretty common in a lot of different Irish slots out there, and that's because it's said that at the bottom of every rainbow is a pot of gold. In this slot you are given the chance to put this theory to the test. If you were looking for a slot with a lot of replay value then this is the one for you. Be sure to check out the rest of this review below in order to find out more!
Quicklinks: Temple of Iris Slots | Rainbow Riches pick n mix free play | FS Play | 7s to Burn Free Play | Double Up Ducks | Gold Rush | Slot Bonanza Free | Shamans Dream Slots | Fluffy Favourites

Expectation vs Reality when playing this casino game
Irish slots bore us 90% of the time, this is just a straight fact. Perhaps it is just our opinion but we are just tired of the same old features including in these slots. It shows little to no creativity when one developer simply copies the other. This is why we are such big fans of this slot. Rainbow Riches is an Irish slot done right.
There aren't a lot of developers who could have pulled off such a feat, but here we are. Barcrest have done a tremendous job in completely reinvigorating this theme, we just hope that the developers don't cotton on and try to copy them with this one (it probably will happen, but what can you do?). Discover more free slot game available at Umbingo today!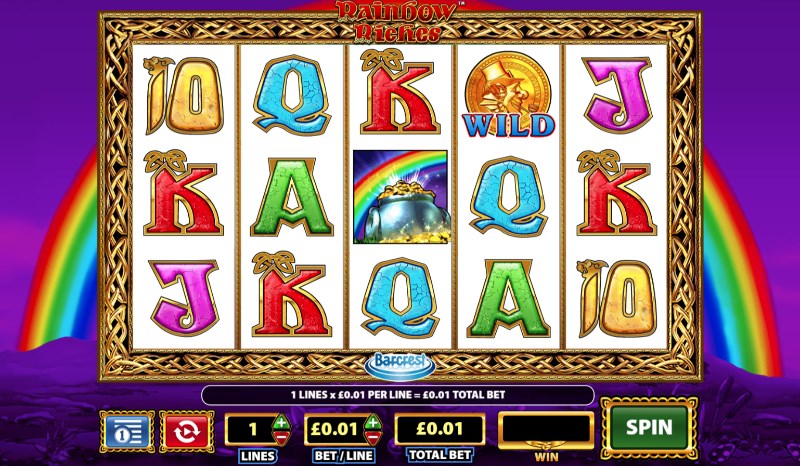 About Rainbow Riches Slots - Gameplay 
Rainbow Riches is a slot that commands attention with each and every spin. You will not find a slot with more personality. The goal in this slot is simple, like other slots in the Barcrest catalogue you are tasked with matching various different symbols on these reels.
All of these symbols are clearly outlined from one another in colour and shape. Since this is an Irish slot you can expect all of the corny symbols to exist on these reels. There is of-course an emphasis on the colour green and all things lucky here also — in both the symbol design and overall look of this slot.
Each of the symbols here offer something different in terms of scores depending on how you can string together victories. Before you can even begin spinning in this slot you will first need to set your bet amounts accordingly, this can be achieved at the bottom of the screen using the various arrow keys you see before you.
The more you put down initially the more you will earn, remember that. If you don't fancy slots like Rainbow Riches game though, why not try some math bingo games instead?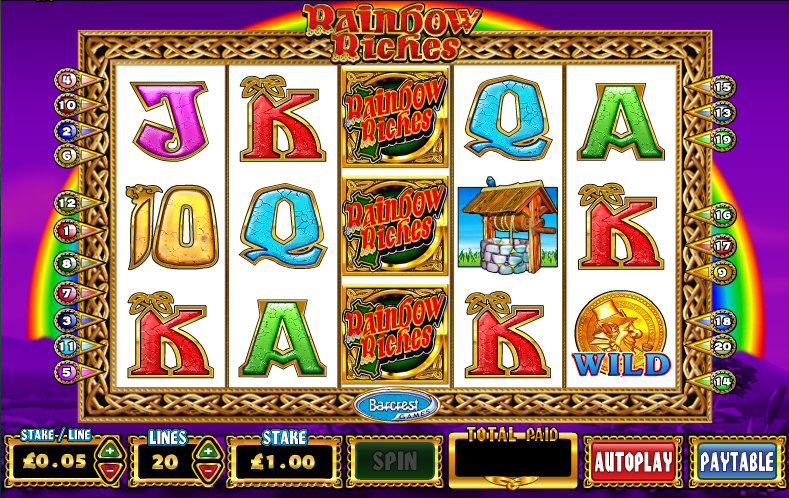 Bonus Games and Bonus Features available on Rainbow Riches Slot
What would an online slot be without the additional features and whatnot that follow. Each of these features have been hand-picked to offer players something challenging with each and every spin. These features may appear familiar to anyone who has played any of Barcrest's slots in the past, Keep in mind that the more you play the more of these features you will use in getting the highest scores possible.
Road to Riches: Should you match 3 or more of the leprechaun symbols in the same winning pay-line, you will then find yourself taken to an alternate screen where you must match various different alternate symbols which will grant multipliers in return.
Wild: Wilds will work in all the ways that you've come to expect in these types of games, although if you find 5 of these symbols on one given line, you will earn 10,000 coins! This is one of the highest scoring bonuses on these reels so keep your eyes peeled. Play our fantastic slot machines and get our great bingo offers, such as the unique £15 free bingo no deposit one-time only promotion!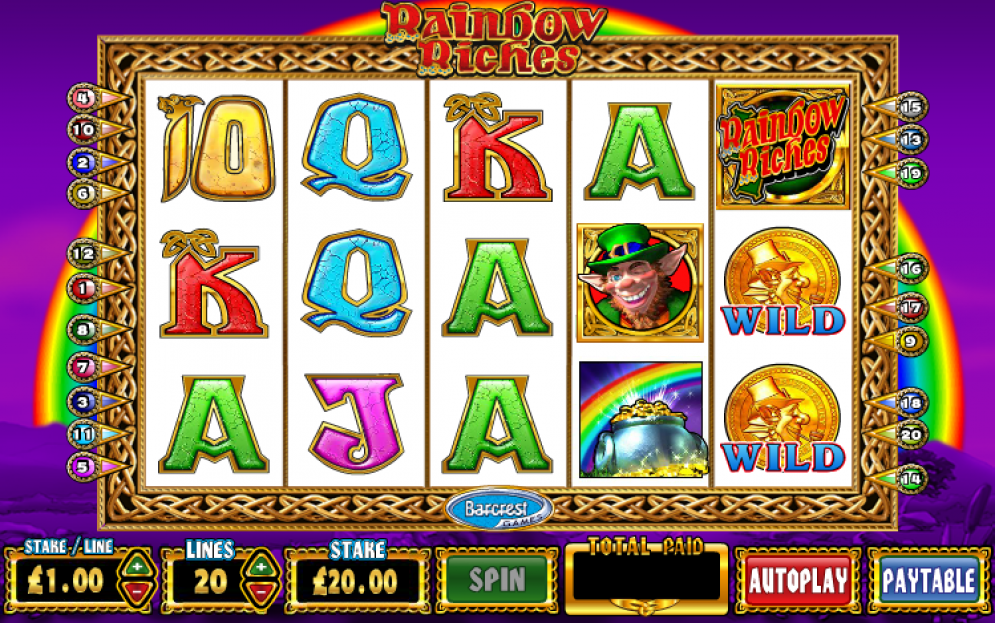 Hit or Miss?
Tired of the same old Irish themed slots? Then why not play Rainbow Riches, a fresh take on the theme and one that will no doubt keep you spinning these reels for days on end. We are always looking for new and interesting slots to play, and this is high up there on our list for good reason. Play now!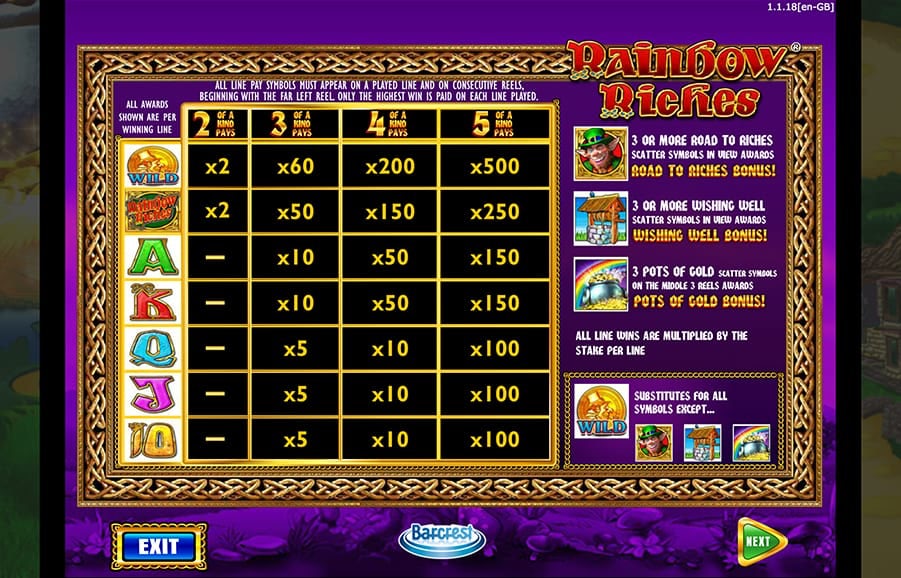 Other Games by Barcrest – the Developer of Rainbow Riches
How many times have you heard of a developer that have managed to stay in business for longer than a decade? It isn't common and there's a reason for that, and the short answer is not a lot of people can hack the drive and determination required.
Developer Barcrest opened their doors back in 1968, and have managed to change with the times almost like a chameleon.These guys understand that in order to be successful you need to adapt or perish. Their catalogue is as varied as the day is long, and with every passing year comes another batch of games that they can add to their arsenal.
There is a clear focus on user experiences with their slots, which is what makes them such a force to be reckoned with. If you are ever looking for a developer that just gets it, then you can be sure that Barcrest have you covered.
Longevity is not a word that most developers can relate to, if you want a developer who goes above and beyond to appeal to you, the players, then why not do yourself a favour and look at but a few of their slots:
7s to Burn
Barkin Mad
Cash Stax
And many, many more!