Mega Bingo Millions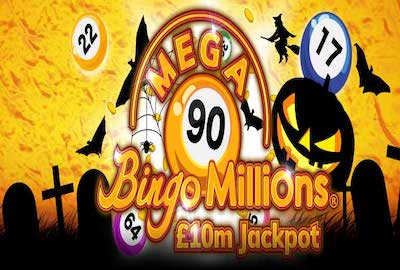 Play the Mega Bingo Millions game and many other online bingo games only at Umbingo! The Mega Bingo Millions is a variant of the 90 ball game, and so if you are an avid bingo player, you should be familiar with it. In 2019, this game shook the world of bingo players, and now you have the chance to enjoy the bingo game at Umbingo.
Quicklinks: History of Bingo | Bingo Calls | How to Win at Bingo | Bingo Names | How to Play Bingo | Pay by Mobile Casino

About Mutuel Play LTD- The Pioneers behind Mega Bingo Millions
Umbingo only offers the best online bingo uk games from top developers. Mutuel Play is relatively new to the world of online gambling games, but they are the developers of the groundbreaking Mega Bingo Millions. Since 2016, the gaming brand has been involved in game design and development, and so they are known for creating online slot games and bingo games.
Mutuel Play LTD is also engaged in a lot of collaborations with other bingo sites, which makes their bingo games much better. If you're looking to play bingo online created by top developers like Mutuel Play LTD, Umbingo has got you covered. 
Play slot game titles at Umbingo too!
Playing Mega Bingo Millions – Understanding this Bingo variation
Here at Umbingo, we want you to enjoy playing online bingo games as much as possible. It is straightforward to play this game. You play the Mega Bingo Millions game just like any other 90-ball bingo game. In this game, the play is against the number calls, and these numbers are drawn at random. To win a prize, you have to call a full house in under 70 calls.
For under 35 calls, you call one line, and for under 55 calls, you call two lines only. Whatever you achieve, one line, two lines or full house, would set the base for the prize that you go home with. In other words, the jackpots you get depend on how many calls you make. Play free bingo no deposit here!
What separates Mega Bingo Millions from other bingo games is in the way the prizes are won. With other games, when one line is won, the bingo game progresses to two lines. On the other hand, here, when one person gets a full house with only 50 calls, the game continues until 70 calls are made. This means that there can be more than one winner for these three levels at the end of the day. 
Bonuses and Promotions in Mega Bingo Millions
One of the most massive bingo games promotions that you can enjoy on Umbingo is with Mega Bingo Millions. There is a mind-blowing prize of £10 million if you're lucky! With this game, you can go home a millionaire. To get this bingo prize, you only have to achieve a full house in 15 to 30 calls. When doing this, remember that you are more likely to win this prize if you put your mind into it.
When you play with Umbingo, be prepared for more bingo bonuses and promotions that you can enjoy!
Our Take on this Online Bingo Game
For anyone who has been wondering if they should play Mega Bingo Millions, we say go for it! You can enjoy this bingo game more when playing with Umbingo, where you can enjoy bonus bingo prizes and more! Try Bingo Millions 80 balls instant if you want to challenge players in different types of uk bingo!