Doubleup Ducks Jackpot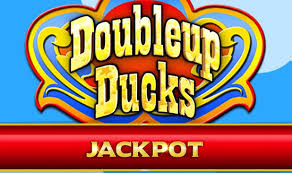 You've played the original Doubleup Ducks, now try the one with the more financial edge! Umbingo welcomes this amazing online slot game and invites fans to play! If this review is not enough to persuade you, then you check out our casino promotions, like the 500 free spins for slots or our free bingo games no deposit one.
Summary of Doubleup Ducks Jackpot video Slot
The original Doubleup Ducks just happens to be one of the most popular online slot games in the world currently, and also one of our favourite slots to play simply because of how basic it was to just pick up and play compared to that of most other slots that exist in the market. Well fans of the original slot might be interested to know that developer Eyecon has came out with a jackpot variant of the original free slot games, one that boasts a completely different outlook than before.
This is a jackpot slot, meaning there is something completely different to aim towards with each and every spin. We would recommend that you look at this slot as a bigger brother to the original; both similar yet different at the same time.
The original Doubleup Ducks was a 5 reel by 25 pay-line slot, and so too is this one. This slot is packed full of interesting themes and colours that is sure to get you excited for each and every spin. Perhaps you have never played the original slot, well we can tell you that you can get a quick recap by playing this one, you might find that you have a better time playing this one rather than the original, especially if you are someone who likes making money in an online slot.
Eyecon clearly have yet another hit on their hands, as this slot looks to be making the same traction as the original. Be sure to check out the rest of our written review below to find out more!
Quick Links: Temple of Iris | Stampede | Gonzo's Quest | King Kong Cash |

Expectation vs Reality regarding Doubleup Ducks Jackpot
Doubleup Ducks Jackpot might confuse a lot of people out there , especially if they play the original slot frequently. They might wonder why the developer would release yet another slot in the series, well allow us to provide context.
Eyecon not only like making money, but they like spreading the online slot love, and given the fact that this slot has a really high RTP percentage, you then have all the reasons in the world to believe that this slot not only deserves to be here, but might actually be better than the original.
Playing Doubleup Ducks Jackpot Casino Game
This slot is one that takes place at a carnival. If you've ever played the hook a duck game before then you will know what kind of vibes that Eyecon are going for. In terms of looks, this slot is identical to that of the original, if not more crisp given that it has had time to be refined to fit this more jackpot orientated fix.
Symbols in this slot take the shape of various different animals, similar to that of Fluffy Favourites, an online slot from Eyecon also. Each of these symbols offer something different depending on how you happen to be stringing together victories.
The more you play the higher your scores will be, which means that your cash-pay-outs will grow also. We should state at this point that in order to play you will need to set your bet amounts and whatnot beforehand. This can be achieved at the bottom of the screen by using the arrow keys accordingly.
Bonus Games and Bonus Features available on Doubleup Ducks Jackpot Online Slot
All of the bonus features you see in this slot have been hand-picked to give you the most extensive experiences possible with each and every spin. We would recommend that players first start this slot by having a quick glance at the pay-table, this will allow one to get an idea for which symbols do what and which ones to look out for.
The more you play the more features one will find. Remember that each of these features offer something different depending on what symbols you are matching initially.
Wild: Wild symbols here work in all the same ways that you've come to expect. Wilds will substitute for all other symbols bar the scatter, wilds also come with quite a nice pay-bump also.
Duck Shooter: Free spins in this slot come via the duck shooter mini game. Matching the scatter symbols will unlock this mini game that will add additional multipliers to your scores. These free spins can be re-triggered, making them incredibly useful in earning the most money possible.
Jackpot: The aim of the game here is the jackpot. This jackpot here is progressive, meaning that it is not capped and will continue to grow over each spin. The jackpot will continue to grow and will not disappear until you win it all.
Hit or Miss?
Doubleup Ducks Jackpot is a very welcome addition to the franchise, and is one that will no doubt keep players fixated at the screen as the jackpot element here is enough to make anyone crazy. Play now the best slots and bingo games only at Umbingo!
Other Games from Eyecon - the Developer of Doubleup Ducks Jackpot Slot Machine
Developer Eyecon is among some of the most creative minds within the industry today, their attention to detail and innovative ideas have always existed on the forefront of the online gaming industry. The name Eyecon is a play on the word icon, which is very apropos considering how well these guys craft slots that are played by thousands everyday, spanning multiple different countries and cultures in doing so.
With each and every new release from Eyecon comes the expectation of something different. If you take one thing away from these guys, it should be their penchant for success through experimenting with themes and gameplay elements that only heighten their games.
Never will you come across a slot from Eyecon that abuses your money in hope of bleeding you dry; these guys actually care about your experience, just as much as they enjoy making money, and making the worlds that you are given a chance to explore for yourselves. Slots in their catalogue include:
Fluffy Too
Autumn Gold
Cheng Gong
And many, many more!
If you don't think this game is the right for you, then why not check out 99 Time slot?