Secret Garden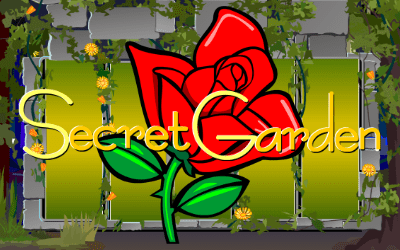 Find out just how secretive this garden is with this very fun and exciting online slot! Join Umbingo, the best online bingo uk and slots site, to play Secret Garden today!
Summary of Secret Garden Slot
How many times have you walked past a nice garden and wondered what kind of effort is required for something so lavish? We've lost count personally. Allow us to introduce to you, Secret Garden, an online slot from developer Eyecon that actually hands you the gardening gloves and tells you to go and get your hands dirty. The prize you may ask, is the endless amounts of money you will receive from only a handful of spins on this highly enjoyable slot.
The name of this slot suggests that there aren't an awful lot of people entering this garden. The truth is, this slot is actually one of the more popular offerings going today, and has been since its launch, so you should consider the title somewhat ironic, considering the amount of people who flock to this slot overall. This slot has a very heavy nature theme, so if that is what you look for in slots then look no further than this one.
Secret Garden is a 5 reel by 20 adjustable pay-line slot that blooms with various different features and things of the like. When looking onto the reels you will notice various fruits and vegetables that you are tasked with collecting in order to come out with the highest scores possible.
The graphics do a great job in making these digital foods edible, which is a testament to the design work put in from developers Eyecon who have again shown why they are to be considered one of the best developers in the industry presently. Be sure to check out the rest of our full written review below! There's a lot to get into with this slot and we don't want to miss anything out.
Quick Links: Fluffy Favourites | Starburst | Rainbow Riches Pick 'n' Mix | Shaman's Dream |
Temple of Iris Slots | Fireworks Frenzy | Action Bank

Expectation vs Reality when playing this casino game
How many times have you come across a slot that has you picking various fruits and vegetables for cash? Not that many, considering this is arguably the most popular slot in this theme. Secret Garden is a very fun slot, despite many of you out there probably questioning the fun in picking fruit and veg.
We would highly encourage you play this slot when you are sick and tired of the many adventure themed slots out there. If you happen to be a gardener/farmer, you will love this slot, and even if you just enjoy fun slots in general, you will also find some enjoyment in this one, it's just that fun!
About Secret Garden online slot
This slot was always going to be one of the more beautiful slots to behold given the name and whatnot. You should expect there to be various different colours cascading from these reels. The fact that Secret Garden is an Eyecon game just makes it even better.
Eyecon take these types of challenges head-on, and we think they've succeeded in making something pretty to look at and fun to play. In order to win money in this slot you will need to be matching various different fruits and vegetables on these reels. Each of these symbols comes with their own specific value, a value that one must extract in order to come away with the highest scores possible.
Some of these symbols have a hidden feature behind them, something that one must extract in order to come out with a pretty penny. With a slot like this one, those who bet more initially will find that they earn more as a result. Bet amounts can be set at the beginning of each game, and will be the difference between good scores and great scores, remember that when deciding on your amounts.
Find more unique free slot games here!
Bonus Games and Bonus Features available on Secret Garden
Anyone who has played an Eyecon game before should know already what to expect from this one. The additional features here all do a great job in keeping you interested at the screen and nowhere else. We would advise one familiarise themselves with the pay-table before they begin spinning, just as this gives you an idea on what to look out for.
Wild: Wild symbols are common in essentially every online slot, but what makes it unique in this slot is its accessibility. You will find these very common on the reels, and when matched they will substitute for all other symbols bar the scatter.
Free Spins: When you match the scatters, depending on the amount of them involved in the pay-line, you will earn free spins accordingly. These spins are invaluable considering how they offer additional multipliers to scores that will throw them up the pay-table.
Key Bonus: Finding 3 keys on the reels will unlock the highest scoring symbol in this garden. These keys appear randomly so don't think that they will be here often. Once you find these keys you will then be taken to an alternate screen where you must match symbols for more scores.
Hit or Miss?
Secret Garden is a very fun slot to behold that will always do its job in keeping you fixated on these reels at all times. We've never seen a more beautiful slot. Play now and find our free bingo bonus no deposit offers and promotions awaiting for you!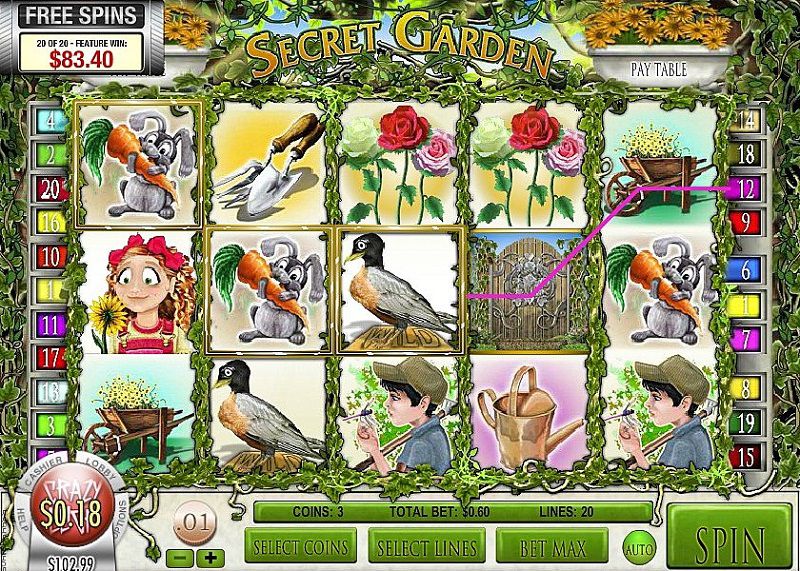 Other Games by Eyecon – the Developer of Secret Garden video slots
Developer Eyecon is among some of the most creative minds within the industry today, their attention to detail and innovative ideas have always existed on the forefront of the online gaming industry. The name Eyecon is a play on the word icon, which is very apropos considering how well these guys craft slots that are played by thousands everyday, spanning multiple different countries and cultures in doing so.
With each and every new release from Eyecon comes the expectation of something different. If you take one thing away from these guys, it should be their penchant for success through experimenting with themes and gameplay elements that only heighten their games.
Never will you come across a slot from Eyecon that abuses your money in hope of bleeding you dry; these guys actually care about your experience, just as much as they enjoy making money, and making the worlds that you are given a chance to explore for yourselves. Slots and online free bingo games for android in their catalogue include:
White Wizard
Fae Legend Warrior
Temple of Isis
And many, many more!