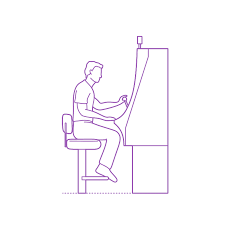 Have you ever wondered where certain bingo names numbers come from?
Bingo numbers all come with their own nicknames that are used by bingo callers during games.
A game of bingo, particularly in a live setting, is simply not complete without these funny bingo number names.
The caller will read out the number once it is drawn followed by the nickname that comes with it.
Some of the famous bingo number names have a long history going back half a century.
With some, the origin of their nickname is debated in bingo circles.
But if you would like to know more about where the names for famous best bingo site to win numbers come from, read on and we will explain all.

Bingo Numbers Related to History
Bingo numbers are primarily used in bingo halls to make the callouts more entertaining and to keep the crowd engaged. Bingo halls peaked in popularity in the UK in the mid-to-late 20th century, so many of the famous bingo numbers are rooted in this period. Here are some bingo numbers containing historical references.
#1 Kelly's Eye
The first of all the bingo numbers and one of the most famous. Kelly's Eye likely refers to famous Australian bushranger Ned Kelly. His famous suit of armour contained an eye slot which looked like the number 1, so this example also fits into another category of nicknames which refer to the appearance of the number itself.
This phrase may also refer to the British comic series Valiant from the '60s and '70s. In one issue, character Tim Kelly wears a jewel named the Eye of Zoltec.
#9 Doctor's Orders
This bingo number refers to the Second World War. British doctors gave a laxative pill called number nine to soldiers when they found themselves ill.
#10 Boris' Den
10 is always the den but the name before it changes with the current Prime Minister resident in 10 Downing Street. Listen out for a reaction from the crowd for this one!
#30 Dirty Gertie
A catchy rhyme referring to a Second World War song sung by soldiers called 'Dirty Gertie from Bizerte'. There is also a statue called La Delivrance in London which goes by this nickname.
#59 The Brighton Line
Sometimes used for number 9 instead of Doctor's Orders, this one is another catchy rhyme referring to the train between Brighton and London Victoria which takes 59 minutes.


Modern Bingo Numbers
You'll have noticed that a few of the retorts to bingo games numbers here will be lost on younger players. As a result of this, in 2003 Butlins brought in a series of new bingo number calls that would strike a chord with younger players at their bingo games.
These days, some of these bingo calls will have blended in with the famous bingo numbers, while others will have faded out of use again. Here are some of the new calls that Butlins tried to bring in for their games.
#8 Gareth Gates
All the rage back in 2003, the Pop Idol runner up took his place at number 8.
#30 Ali G
The comic character replaced old Dirty Gertie to help bring in some more modern media references.
#52 Chicken Vindaloo
Fat Les's 1998 hit 'Vindaloo' was still fresh in the memory for most people in 2003 and provided a tasty rhyme.
Mecca Bingo brought in some other new calls more recently. Seeing number 8 Gareth Gates be replaced by the far trendier 'Tinder date', and pop group Little Mix come in at number 6.


Appearance-Based Bingo Numbers
Some of the most famous no deposit bingo bonus numbers are the ones which are simply the most memorable. Players are big fans of the calls which refer to how the number itself looks. Here are some of the classic examples.
#11 Legs Eleven
11 being the pair of legs, this call's days may be numbered as the wolf whistle which used to come after it has been banned in most bingo halls due to its sexist nature.
#22 Two Little Ducks
The reply to this one from the audience is the much sweeter 'Quack Quack'.
Now you are all clued up with the famous bingo numbers that may have seemed very strange. In fairness, they may still do! Nonetheless, you're now ready to come play some of our exciting bingo games here at Umbingo. Get singed up today to take advantage of our Welcome Offer applying to slots game titles too!
*Any Free Spins/Welcome Bonuses References are subject to the following: NEW PLAYERS ONLY, MIN DEPOSIT £10, MAX BONUS EQUAL TO LIFETIME DEPOSITS (UP TO £250), 65X WAGERING REQUIREMENTS AND FULL T&CS APPLY