Newbies, you've certainly come to the right place to learn everything there is to know about online bingo and what it can do for you, we'll tell you that for free! In many ways, online bingo changed the bingo industry as of 2020, more than 50% of the public have taken their efforts online, driving more attention to the pastime of bingo as a result; waiti until you see the bingo games cards online to realise how much things have changed. Know that you've picked as good a time as any to hop into the world of bingo, trust us. In this article we are going to be covering everything there is to know about bingo so that you are well-equipped at playing the game for yourself, both online and in-person, although most of what we are going to be discussing is primarily going to help you in online bingo. Consider this an article for anyone looking to better their skills at the bingo table. So, let's get into it, shall we! 
Quicklinks: History of Bingo | Bingo Calls | How to Win at Bingo | Bingo Names | How to Play Bingo | Pay by Mobile Casino

The Basics 
Online bingo sites might be new, but bingo is a game as old as time, one that is universally loved by hundreds of thousands of people across the globe — we used to play the game for fun when we were kids, playing for petty cash against family members way back in the day! If you have no idea on how to play bingo then we are just going to assume you've been living under a rock. If you are one of the select few who has never played bingo before then allow us to give you a quick lesson. A bingo caller will draw numbers from a tumbler — or using an automated system — once these numbers are read out all you have to do is mark down the numbers you have on your 'bingo card'. Most bingo games play towards a 'line' — dabbing all numbers in the same row — or a 'full house' — the act of filling an entire board. Online versions of bingo play in the exact same way, although the caller is often replaced by a CPU of some kind that will do all the calling and whatnot. Bingo is played against hundreds of players on occasion, all of whom have the same amount of chance at winning as you do — the same goes for online bingo too, although there are some online bingo games out there that allow you to play against a CPU — just keep in mind that these games don't really have a lot of cash in them, and if you care about making money in online bingo you should look for those with living players in them.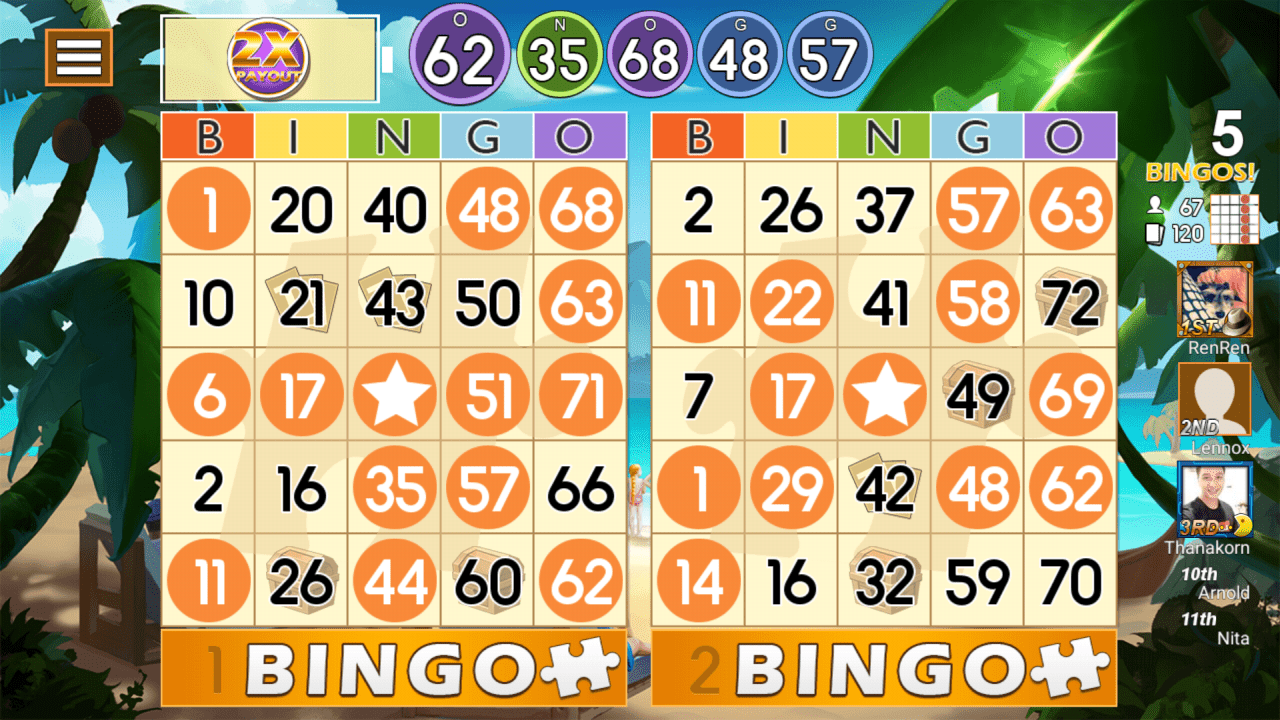 Repetition Is Key
If you find that you are struggling when playing free slot games or new bingo games the best thing you can do is simply practice! We know, sometimes the last thing you want to do is dedicate so many hours of the day doing something that is pretty self-explanatory, but it does help — more-so if that player has never played online bingo before and is looking to get better at it. People tend to forget that bingo is a game of luck, but that doesn't mean there aren't things to look out for to help you. Find a particular online bingo game that you like — preferably one with smaller deposit requirements and you're golden. Playing this version of bingo will train your eye in playing bingo on a screen digitally, vs what you might see in the real world. It helps also that most online bingo games go quite quickly, and there are variations of the game that you can play right now — for example, some sites out there allow you to play for a line! If you are going to practice then we'd recommend you try looking out for online bingo games with sign up bonuses — this is obviously dependant on whether or not you've signed up to this site previous, but we didn't need to tell you that. These bonuses will often award you free bingo games, or limited deposit requirements for entry — any of these bonuses will assist you in some way or other. 
Strategies To Win
One of the best pieces of advice we can give is to strategise — this is a requirement to those who are looking to play for financial gain, not those who just play every now and again for kicks. Know that you can make a hell of a lot of money in online bingo if you know what you're doing and are playing smart. We are always thinking of multiple games in advance, this is how we are able to constantly remain in the green as far as our earnings are concerned. So how can you strategise? The answer to this question is simple, all you need to do is establish a spreadsheet of some kind — almost every computer comes with some sort of spreadsheet program so there should be no excuses here. If you go online we're pretty sure you can find hundreds of gambling spreadsheets out there if you don't want to make your own. The gist of owning a spreadsheet is this: having some sort of documentation that keeps track of your wins/losses is imperative in your win to loss ratio. In online bingo it is incredibly easy to lose track of the amount of money you are spending — especially on certain sites with a high bet margin requirement. This sheet will allow you to see how much money you're actually spending with every game of online bingo played. If you find yourself losing back to back games, take a look at your bottom line and see if you can afford to risking losing another game, if the answer is no then you'll know to go offline for a little while. 
Make sure to check out free bingo bonus no deposit to get started with some advantage over the casino!
New players only, min deposit £10, max bonus conversion equal to lifetime deposits (up to £250), 65X wagering requirements and full T&Cs apply. Please see our promotions page for more information & you can read our Full Terms and Conditions through the link above. All the mentions to bingo promotions (free bingo) and free spins (free slots) are subject to the above.